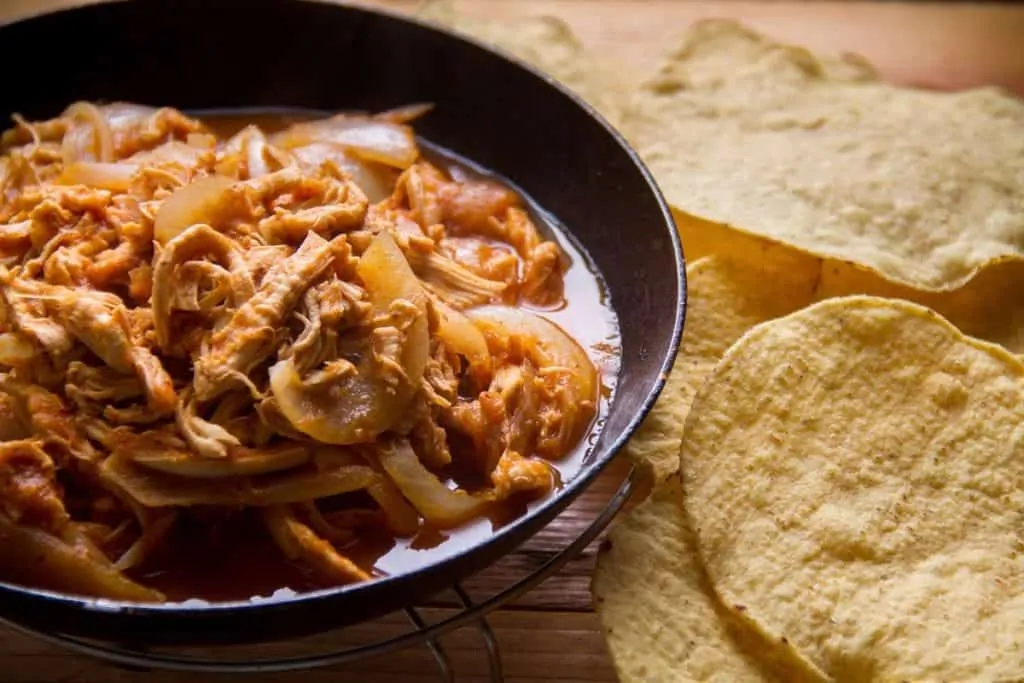 If you always want to have a versatile recipe which can save you from a tight spot, without any doubts you must prepare chicken tinga.
Chicken tinga is typical dish from Mexican cuisine which was created in Puebla state.
The term tinga is also known as tomato meat and for this elaboration chicken is used, although pork and beef can also be used.
---
Recibe GRATIS cuando Publiquemos NUEVOS Videos y Recetas. SUSCRIBETE AHORA GRATIS aquí Abajo.
It is a dish that has it all: it's easy, delicious, fast, versatile and, the best of all, it lasts a long time.
How to prepare homemade chicken tinga?
Preparing homemade chicken tinga is very easy, you only need to make a sauce with red tomatoes, onion, garlic and chipotle chili, which are the key ingredients for this dish.
Then mix everything with the chicken and spices as you desire. This is the traditional Pueblan recipe.
When it comes to the meat, you can use the part of the chicken you most desire, the highest recommended are chicken breasts and thighs because they have more meat.
To make the sauce, some people beat all the ingredients together and others just simply cook them in the frying pan.
All of these variants are delicious, simple and can be used in an endless number of dishes, especially as snacks.
In this recipe, we will share the chicken tinga recipe that does not require beating the ingredients in case you will have a guest that does not like very spicy food.
Anyway, we will tell you what to do in case you would like to beat the ingredients of the sauce so that the flavor of the chipotle chili will be more integrated.
What can we have with chicken tinga?
The chicken tinga recipe is usually served with toast, cream and cheese, which is an irresistible Mexican combination that makes the tinga less spicy.
Nevertheless, since it is a very versatile recipe, you can also have it with tacos, quesadilla, salad, corn tortilla and, why not, as main course with rice, avocado and anything you would like.
Chicken tinga recipe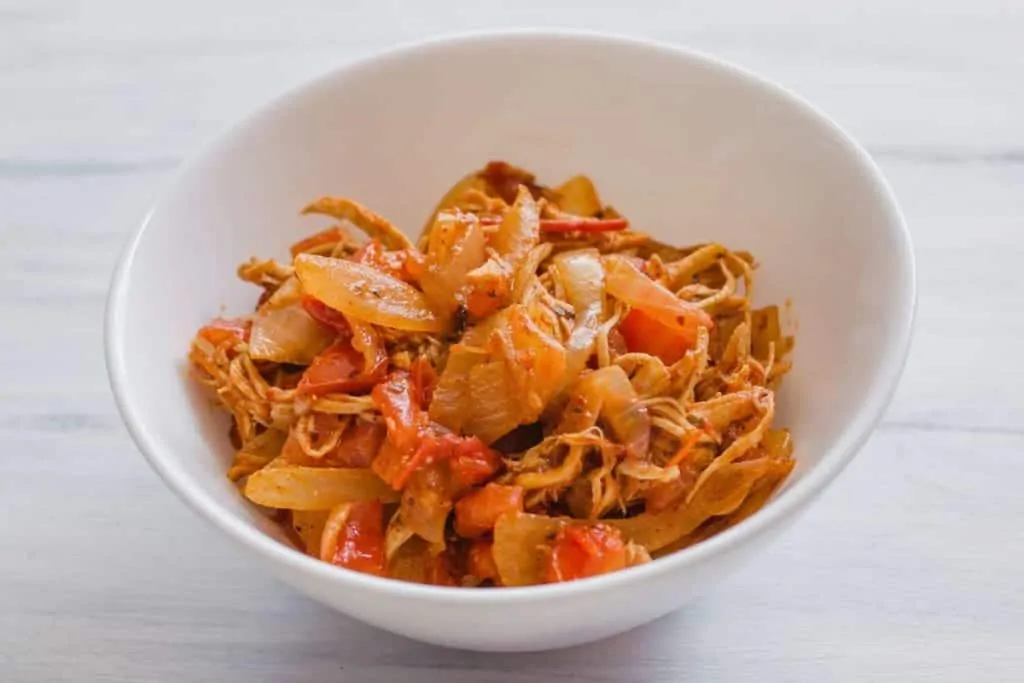 A delicious and authentic homemade chicken tinga recipe, an essential dish in Mexican Cuisine.
Ingredients
1

large chicken breast

7

large tomatoes

4

garlic cloves

1

white onion

1

small can of chipotles or 200 grams

1

bay leaf

A pinch of pepper

½

teaspoon

of oregano

½

teaspoon

of thyme

Salt as desired

3

tablespoons

of olive oil
Step by step how to prepare
Put the chicken breast in a pot with enough water and then put the pot on the stove. Add salt, the bay leaf and 2 garlic cloves. Cook on high heat for 25 minutes.

After this time, take the pot off the stove and drain it in order to shred them using a fork, being careful not to burn yourself.

Now, cut the onions into julienne strips, dice the tomatoes taking out the seeds first, and chop the garlic cloves you have left. Put a big frying pan on the stove and heat up the olive oil.

When it is hot, add the cut onions, cook them on medium heat until they are transparent and then add the diced tomatoes. Mix everything for a minute so both ingredients mix well.

Next, add the chipotle chili, the salt, the pepper, the oregano, the thyme and cook for 5 minutes until the tomato is well cooked.

Lastly, add all the shredded chicken, mix everything well while it cooks for 3 to 5 more minutes.
Video. How to Make
Optional:
If you would like to beat the sauce ingredients, put a bit of chicken broth, the chipotle chili, the diced tomatoes, salt, pepper, oregano and thyme in a blender.
Then cook this sauce for 5 minutes and add it to the frying pan containing the garlic and onion sauté, and at the end add the chicken.
Valores Nutricionales