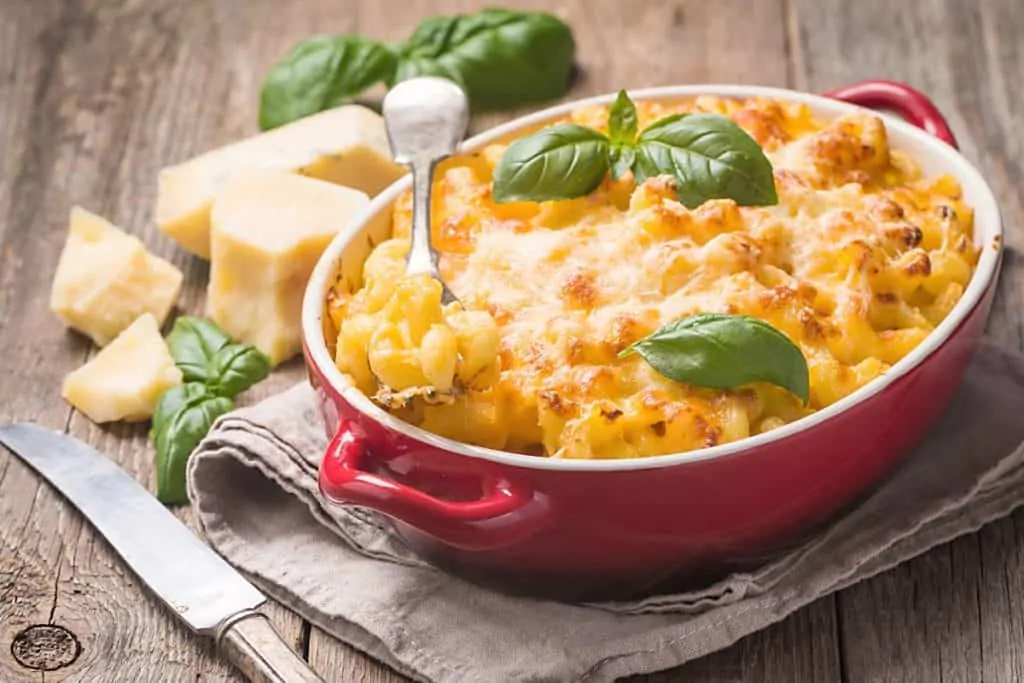 Encourage yourself to prepare this delicious macaroni and cheese recipe to enjoy at home in a matter of minutes.
All of us love pasta, especially children, and as a matter of fact, this macaroni and cheese is everyone's favorite.
This is why you can't lose the opportunity to prepare this recipe that won't ever let you down, believe us, it's way too good.
---
Recibe GRATIS cuando Publiquemos NUEVOS Videos y Recetas. SUSCRIBETE AHORA GRATIS aquí Abajo.
How to make macaroni and cheese?
Regarding this recipe, there are several ways of preparing it, of course, each one of them with a variant that makes it special.
The way of making macaroni and cheese varies also depending on the family recipe, since many people are attached to tradition.
Nevertheless, in general this is a simple recipe that can be prepared in lots of ways and you can choose your favorite as a base to the one we explain to you here today.
For example, we propose that you make baked macaroni and cheese also known as melted macaroni, due to the finishing we give it.
But in case you don't have an oven or don't want to prepare it this way, you can choose to make macaroni and cheese without using an oven by just omitting the last steps of the recipe we'll give you below.
On the other hand, you can also add some ingredients you'd like such as meat, which we didn't include it in this recipe but it matches perfectly with this pasta.
The important thing of this recipe is to make a perfect béchamel sauce because this will guarantee us success.
So if you still haven't mastered the technique to make béchamel sauce or you've never made it before, we'll give you some tricks here so you can get it perfect.
The important thing is to prevent the béchamel sauce from forming lumps, and they form when the milk is cold; therefore, if you want to prevent this, the secret is to heat up the milk and add it while it's still hot.
If you do it this way, we're sure you'll get a perfect béchamel and your baked macaroni and cheese with béchamel sauce will be irresistible.
An important detail before moving forward to the step-by-step instructions of this recipe is that you can choose the variety of cheese you'd like or count on; the result will still be fantastic.
Macaroni and cheese recipe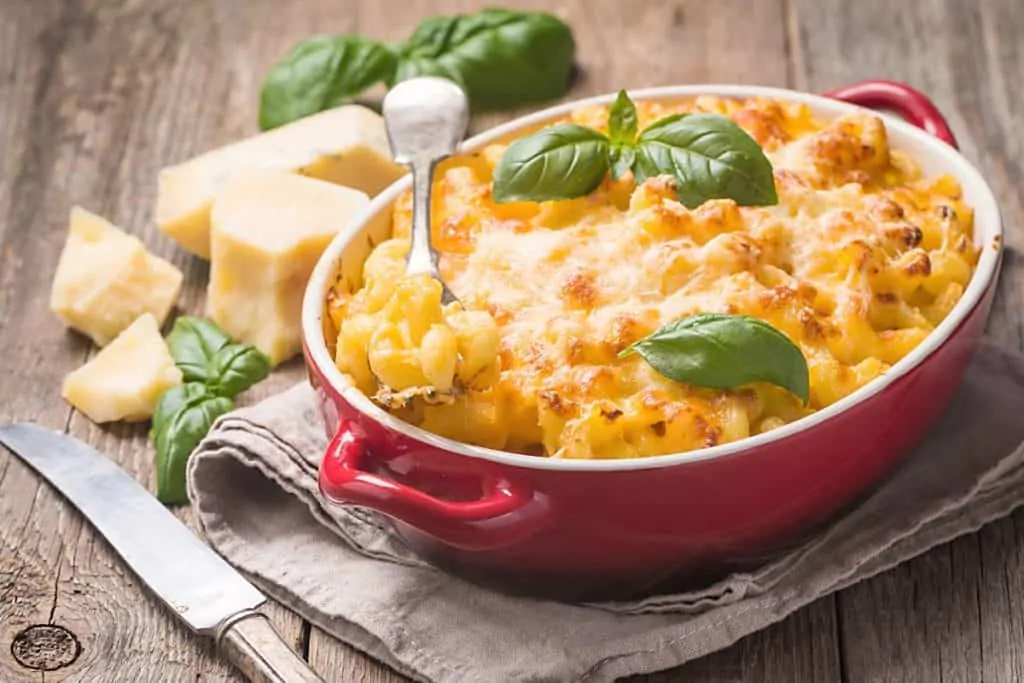 Enjoy this delicious macaroni and cheese recipe, the favorite dish of children and adults.
Ingredients
1

pound

of macaroni

100

grams

of unsalted butter

5

tablespoons

of flour

700

mL

of milk

200

grams

of grated Cheddar cheese

400

grams

of Mozzarella cheese

200

grams

of Parmesan cheese

1/2

teaspoon

of garlic powder

A pinch of nutmeg

A pinch of pepper

1

teaspoon

of salt
Step by step how to prepare
Start by cooking the macaroni following the instructions printed on the packaging, drain them and soak them in cold water to prevent them from sticking to each other. Drain them again and set them aside.

In the meantime, melt the butter in a frying pan, add the flour and mix using a whisk while cooking for approximately 2 minutes.

Once the flour and the butter are integrated add just a bit of milk, less than half of it, to integrate them without stopping stirring using the whisk.

In the beginning, some lumps might form, but you can't stop stirring while adding bit by bit what was left of the milk and you'll see how they disappear.

Once the mixture is thick and there is no lumps, add the Cheddar cheese and mix before adding half of the Mozzarella cheese and lastly the Parmesan cheese. Keep stirring.

At this point add the garlic powder, the pepper, the nutmeg and the salt. Mix everything to integrate them. The result will be a thick and creamy sauce with a delicious aroma.

The next step is to add the macaroni to the sauce and stir to integrate them in an even way.

Then, put them on a tray and add the rest of the Mozzarella cheese over it to garnish it.

Cover with aluminum foil and take it to the oven, which has to be pre-heated to 200ºC, for approximately 15 or 20 minutes.

After this time, remove the aluminum foil, being careful of not getting burnt by the vapor and put the macaroni back in the oven, with heat only on the top, for 5 or 10 minutes until the surface turns golden brown.

Remove from the oven and serve while still hot to enjoy the consistency of the cheese mixed with the macaroni.
Video. How to Make
Valores Nutricionales
Serving:
100
g
|
Calories:
164
kcal