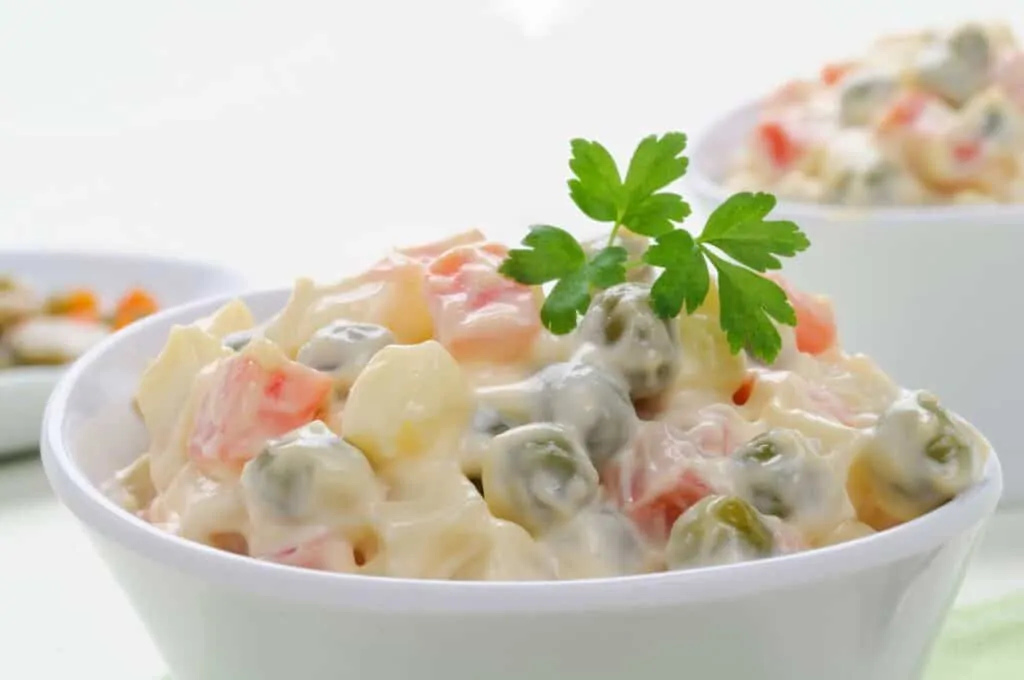 Russian salad, or Olivier salad as it is popularly known, is a classic to enjoy during the warmest months of the year.
Its fame is known all over Europe, Asia, and even the Americas, making us able to say that it is a number-one-star dish in the whole summer.
It is also called Olivier salad because of the French chef who popularized it.
In fact, the recipe that was created in Russia is what made him famous in Moscow, nevertheless, it is not the recipe that we know nowadays because Olivier never revealed it.
I this way, his recipe was not the first reference of this typical dish, since years beforehand it was published in a recipe book in 1845 where a very similar recipe appeared with anchovies, lobster, capers, crabs, mayonnaise and some olives.
Later, other modern versions came that included cooked potatoes, and some vegetables.
Nowadays, there is even an organization in Spain that is charged with protecting this traditional salad recipe, whose principle objective is maintaining its authentic preparation intact.
How to make authentic Russian salad?
Russian salad has lots of different preparation methods depending on the region it is cooked in.
For example, in Costa Rica and Peru it is usually served with beets while in Argentina and in Spain they prefer to skip this ingredient.
Nevertheless, the bases of all of these Russian salads are always the same: a mixture of cooked potatoes, vegetables, some legumes, and even eggs and cold meats.
But according to the experts, its traditional composition only includes six principle ingredients and only one additional one that could be optional.
This dish is served cold, which is why it is enjoyed more in the summer. In this way, it is the ideal entry for warmer days.
It is also typically served as a Spanish tapa and one of its great advantages is that we can prepare it a long time before consuming it.
If you make it to serve the next day, we recommend that you add some mayonnaise at the last minute, just before enjoying it, so that way the ingredients stay fresher.
Russian Salad Recipe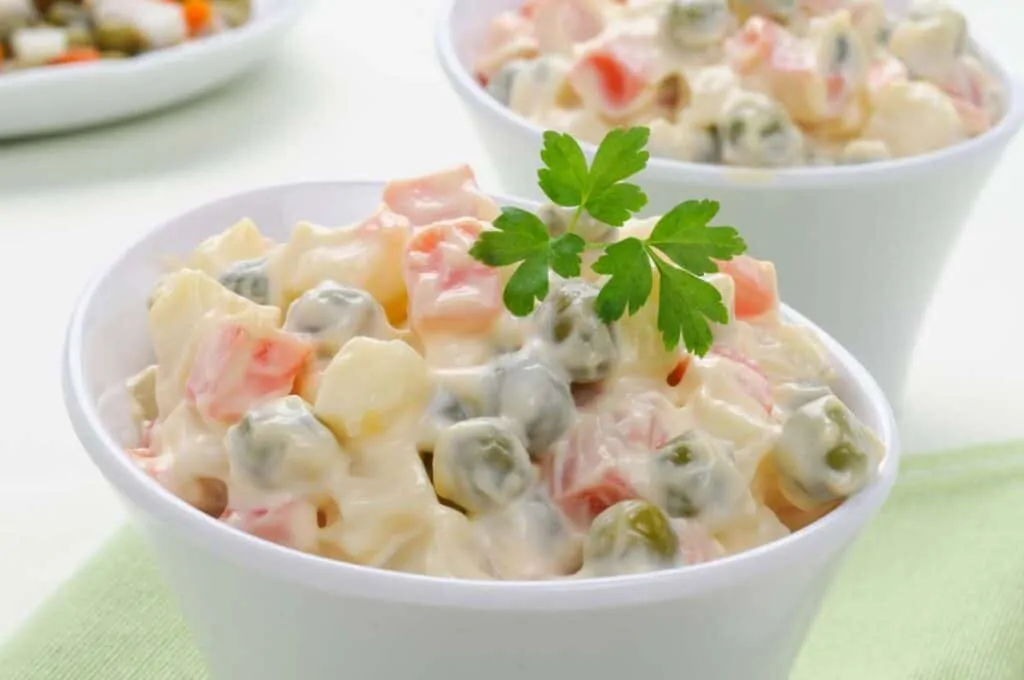 Don't miss this Traditional Russian Salad recipe, a delicious and popular dish to enjoy during the summer.
Ingredients
3

potatoes

1

carrot

A tin of tuna in oil

½

a bell pepper

you can use a piquillo pepper

1

tablespoon

of peas

optional

4

eggs

300

g

of mayonnaise

Salt as desired
Utensilios
Step by step how to prepare
First, we cook the potatoes and carrot with skin to cook on low heat in a pot with a lot of water and salt until they are al dente.

While they are cooking, we can cook the eggs in another pot with lots of water, boiling it with a pinch of salt for 12 minutes. (You can add a dash of vinegar so that it will be easier to peel them)

If the peas need to be cooked too then we can put them in a pot with water and salt for a couple of minutes and we can save them for later.

We bake the bell pepper, wrapping it in aluminum foil and cooking it in the oven for 5 or 10 minutes; if we are using a piquillo this step is not necessary.

We remove the potatoes and carrot when they are ready, we peel and dice them.

We peel the eggs and cut them into small pieces as well. We mix the potatoes, carrot, eggs, the tuna (without the oil) the bell pepper, and the peas together in a container and we add a dash of olive oil we mix well and put it in the refrigerator.

At the moment you will serve it, let it rest a couple of minutes outside of the refrigerator and we will add the mayonnaise.
Video. How to Make
Valores Nutricionales
Serving:
100
g
|
Calories:
122
kcal
Nota: Algunos enlaces en este artículo son de afiliación y podrían generar un ingreso para cocina.guru.