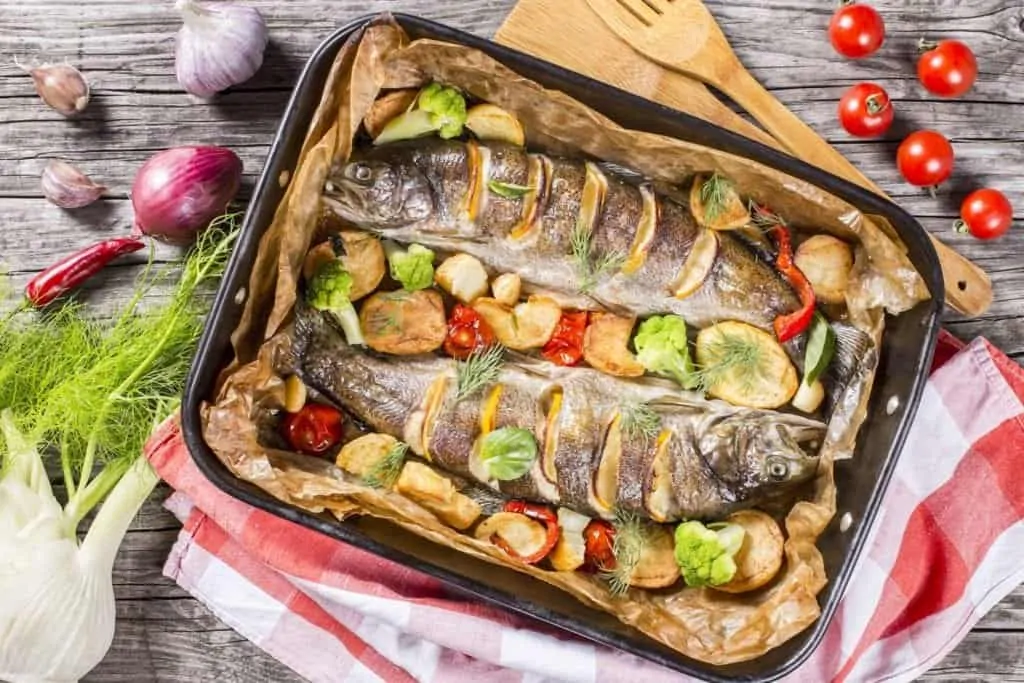 Baked trout is one of those recipes we always must have among the options to host a delicious supper that will please everyone and will take little time to get done.
Thus, we as well as our guests will be more than satisfied when enjoying this light and, at the same time, flavorful dish.
This is due to the trout being a simple fish when cooking it, since it can be cooked quickly and simply and still get a marvelous taste.
Furthermore, it's an economical dish that provides few calories which allows us to enjoy it with no regrets.
The trout is a kind of fish with a greenish bluish color, with a silverish belly and a darker back.
Its flavor is so intense and delicious that it's used in hundreds of homemade recipes, and among them we can mention the popular trout soup, smoked trout, pickled trout, beer-battered trout and others.
But we'll be explaining those preparations in further occasions, because today we bring you a baked trout recipe that, without a doubt you'll like to try whenever you have the opportunity.
How to make baked trout?
The truth is that to make baked trout there are no unusual tricks, since it's a rather simple preparation.
One thing that can't be missed is the lemon, for two main reasons: first, because it gives juiciness to the fish, and second, because it gives it an irresistibly great flavor.
The rest of the ingredients you can change according to your preferences, as well as remove or add some spices if you'd like.
The cooking process is quite fast; it only needs 12 or 15 minutes depending on the size of the fish.
To accompany baked trout some vegetables and potatoes usually are used, although it's also valid to have it with a nice portion of rice.
Baked trout recipe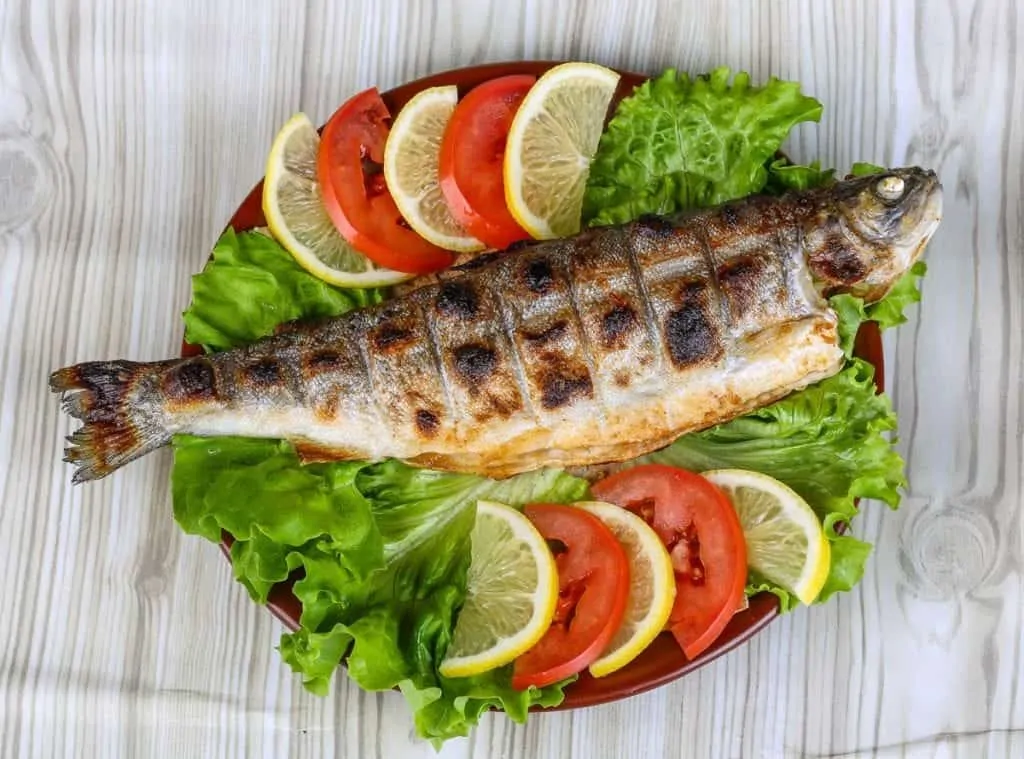 You can't miss out on this delicious baked trout recipe, you'll be surprised at how easy it is to make and how quickly you'll be enjoying it.
Ingredients
2

trouts

2

garlic cloves

1

teaspoon

of fine herbs

30

mL

of olive oil

1

lemon

Salt and pepper as desired
Step by step how to prepare
Pre-heat the oven to 180ºC while preparing the rest of the ingredients to make the trout.

In a container, mix the crushed garlic, the herbs, the olive oil, the juice of half the lemon, the salt and the pepper well.

Then, place the trouts on a tray and spread the mixture prepared in the previous step over all of their sides. You can prepare the whole trout, or remove the head, or even as filets depending on how would you prefer.

Cut the other half of the lemon into slices and place them on the trouts. This will give juiciness to the trouts and in the same way the lemons will caramelize, adding more flavor to the dish.

Take it to the pre-heated oven and cook for 12 to 15 minutes until they're completely cooked, but being careful they don't get them too dry.

Take it out of the oven and serve hot with the accompaniment you've chosen.
Video. How to Make
Valores Nutricionales
Serving:
100
g
|
Calories:
188
kcal
Nota: Algunos enlaces en este artículo son de afiliación y podrían generar un ingreso para cocina.guru.