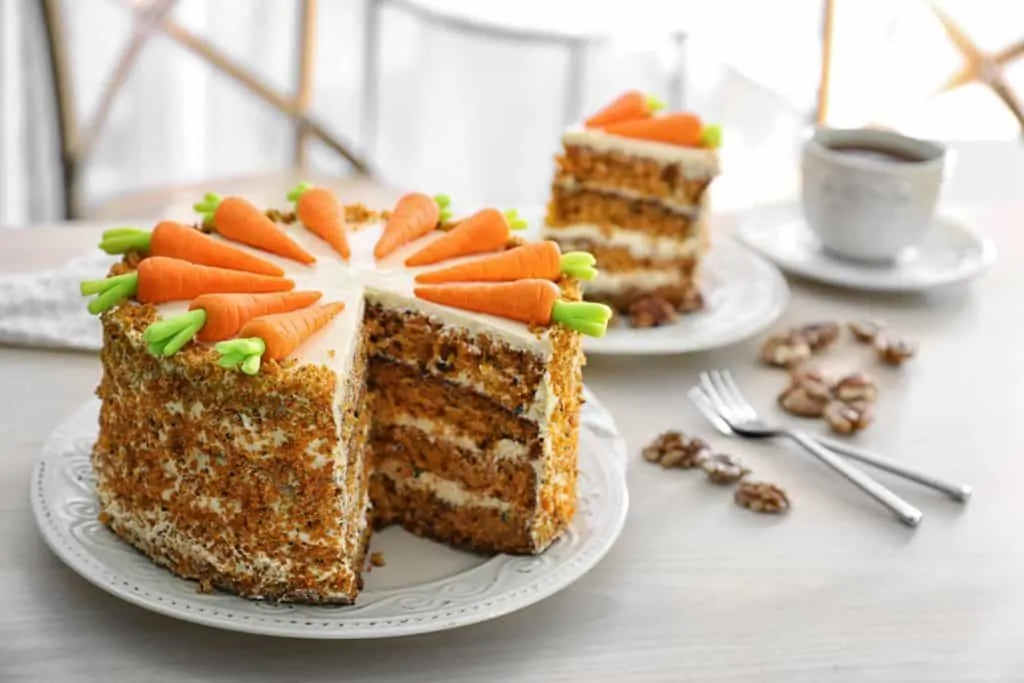 Perhaps, you may have heard of carrot cake and if you have been so lucky to have tasted it then you'll know it's a delight.
As you may have guessed, the carrot is the main ingredients of this recipe and it's a vegetable with countless benefits for our health.
This food is used in an endless number of recipes since the Middle Ages, but since 1960 the carrot cake began to be consumed with a great emphasis in the United States.
In the blink of an eye it went from being a novel dish to a frequent dish in all restaurants, coffee shops and American homes.
How to make carrot cake?  
To make this delicious dessert, ingredients very common in our kitchens are used such as sugar and eggs.
And since what we're going to make is a biscotti, it will also use flour. The process is very simple, we only need to mix the dry ingredients in a bowl and the wet ones in another and at last put everything together and it's done.
The secret of this cake is that the carrot, when it's cooked, releases all of its juices giving a juicy texture to the biscotti.
This would be the way to make a basic carrot cake, but if we want to have an irresistible and superior flavor we can add some dry fruits, spices and raisins.
Furthermore, there are those who like to add some pineapple or coconut, it all depends on your preferences. And of course, you are allowed to remove some ingredients if you don't like them.
You can consume this recipe just like we'll teach you here because it will be mouthwatering, but we like to add it a topping of cream cheese that matches perfectly with the cake's flavor and it will also make a better decoration.
It doesn't matter if you're an expert or not at decorating cakes, you only need to use your imagination. Being a simple or a complex decoration won't change the important thing about this carrot cake, which is its divine flavor.
Carrot cake recipe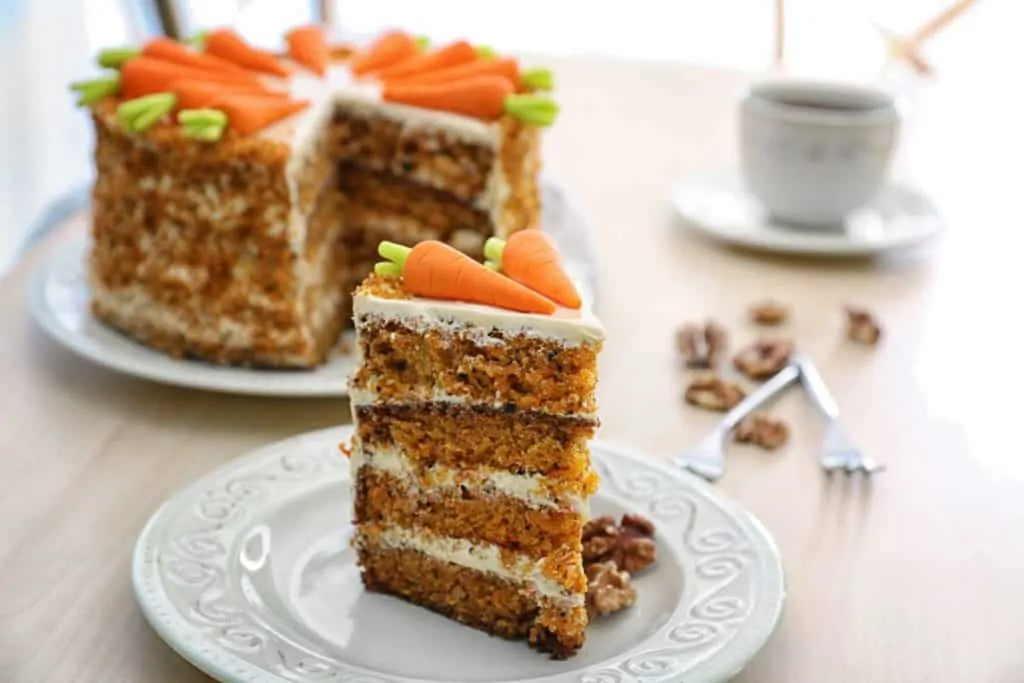 Learn how to make an easy and irresistible carrot cake that will fascinate all your guests, don't let the opportunity go to surprise them.
Ingredients
For the biscotti
200

g

of flour

250

g

of grated carrot

250

g

of brown sugar

3

eggs

100

g

of raisins

100

g

of peanuts

2

teaspoons

of cinnamon

1

teaspoon

of grated orange rind

1/4

of a teaspoon of nutmeg

1/2

a teaspoon of grated ginger

2

teaspoons

of baking powder

A pinch of salt
For the topping
300

g

of cold cream cheese

200

g

of butter at room temperature

400

g

of confectioners' sugar
Step by step how to prepare
Start by preparing the biscotti and to do so mix almost all of the dry ingredients, sift the flour using a colander and add the cinnamon, the baking powder, the nutmeg and the ginger.

Mix everything well and then add the salt, mix again and set aside.

In another bowl, mix the sugar and the oil until they're well integrated.

Add an egg and mix well, when the three ingredients are completely integrated add the next and do so until you add the third one.

Now, add this liquid mixture bit by bit to the mixture of the dry ingredients we prepared previously. Make sure to not beat the flour too much if you're using electric rods so the carrot cake doesn't get too hard.

Next, add the carrot and the grated orange rind, keep mixing manually until integrating everything before adding the raisins and the nuts.

Once the dough is ready pour it into a mold that must be previously greased and floured. Take it to the pre-heated oven at 170ºC for 40 or 45 minutes. You'll know it's ready when you prick the dough with a toothpick and it comes out clean.

Once it's done baking, take it out of the oven and let it cool inside the mold for about 10 minutes and then unmold the carrot biscotti onto a rack and let it cool down completely.

While it cools down, prepare the topping. The only thing you have to do is blend the butter at the blender's maximum speed for 5 minutes.

Then, add the confectioners' sugar bit by bit and blend again for another 5 minutes before adding the cream cheese and after that blend once more for 2 minutes until the topping is soft

The last step to set up the carrot cake is to cut it into 2 or 3 portions according to your preferences.

Put some of the topping on a base to decorate and fix the cake, and on top of it place one of the portions of the cake.

Put a generous portion of topping on top of the portion of carrot cake and repeat this same process until you have put the last portion of carrot cake which must be placed upside down so the decoration has defined edges.

At last, cover all the sides with the topping making the decoration we'd like.

If you notice the topping is a bit melted, put the carrot cake and what you have left of the topping to the fridge for at least 30 minutes before using it again so it can keep a firm consistency.
Video. How to Make
Valores Nutricionales
Serving:
100
g
|
Calories:
415
kcal
Nota: Algunos enlaces en este artículo son de afiliación y podrían generar un ingreso para cocina.guru.