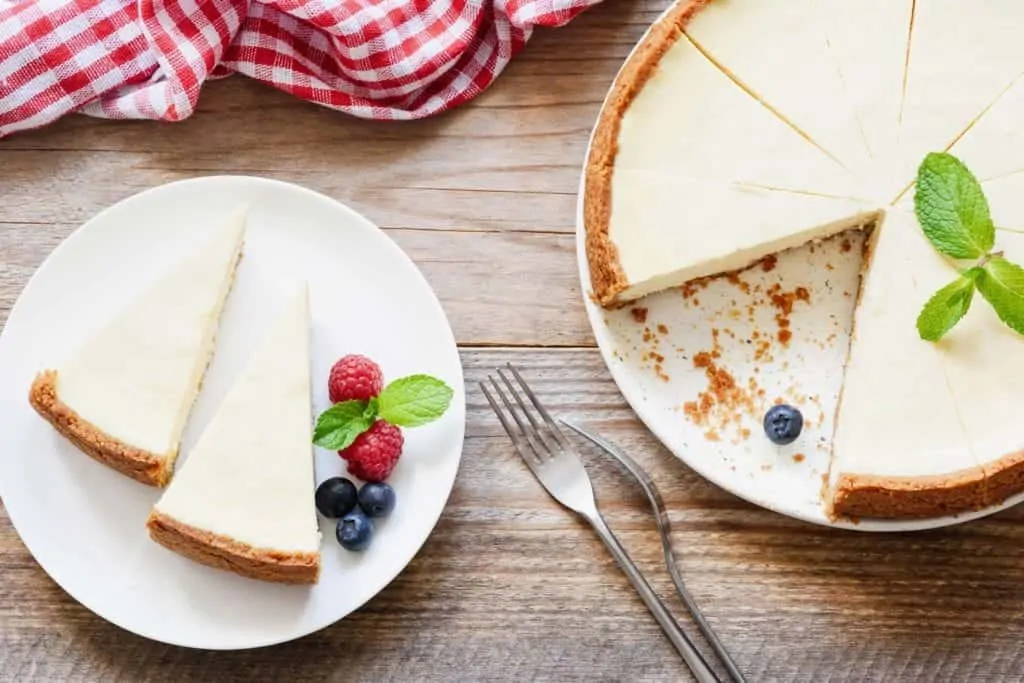 If you want to know how to make homemade cheesecake easily, then this definitely is the opportunity for you to surprise everyone.
While in English it's universally known as cheesecake, you may have heard that in Spanish it's called pastel de queso or pay de queso.
Whatever name you use to call it, they're all referring to this delicious cheese-flavored dessert that makes us want to keep having more.
---
Recibe GRATIS cuando Publiquemos NUEVOS Videos y Recetas. SUSCRIBETE AHORA GRATIS aquí Abajo.
In Argentina and Uruguay, cheesecake is called torta de ricotta while in Venezuela they use the English name to refer to it, as well as tarta de queso.
Whatever your nationality, right now you're going to learn how to make a homemade cheesecake and we assure you that you won't regret it since it's so easy to make.
Nevertheless, before we get into the ingredient list and instructions, you should know that there are many versions of cheesecake recipes.
For example, some are baked, some are cold and cooked without an oven, combined with flavors such as chocolate, dulce de leche, and fruits such as the guava, the strawberry, and many more.
All of these recipes will be published on our website, but on this occasion, we will make one of the most popular ones: baked cheesecake.
You'll be surprised at how easy it is to make, you only need to keep in mind some little tricks so that it turns out absolutely perfect and you can enjoy it with your friends and family.
How to make baked cheesecake?
As its name suggests, obviously this cake has cheese in it, but which type? Well, your preferred creamy cheese.
To make this cake, often ricotta cheese is used, or Philadelphia cheese. Very rarely you will find it made with quark cheese.
On the other hand, this recipe also includes eggs, heavy cream, some almonds or other nuts, and a little bit of orange or lemon juice.
All of the ingredients are mixed and put on a crunchy base of crushed cookies and butter.
One of the pieces of advice to keep in mind so that it doesn't crack is to beat the ingredients at a slow speed so air does not enter the dough.
It is also pertinent that all of the ingredients are at room temperature so that they better integrate.
Later, they're put in the oven to give it a perfect finish, but before you take it out of the mold it's best to slowly raise the temperature so it doesn't crack.
We advise you to use a removable mold so that it is easier to take it out when it's ready.
Cheesecake Recipe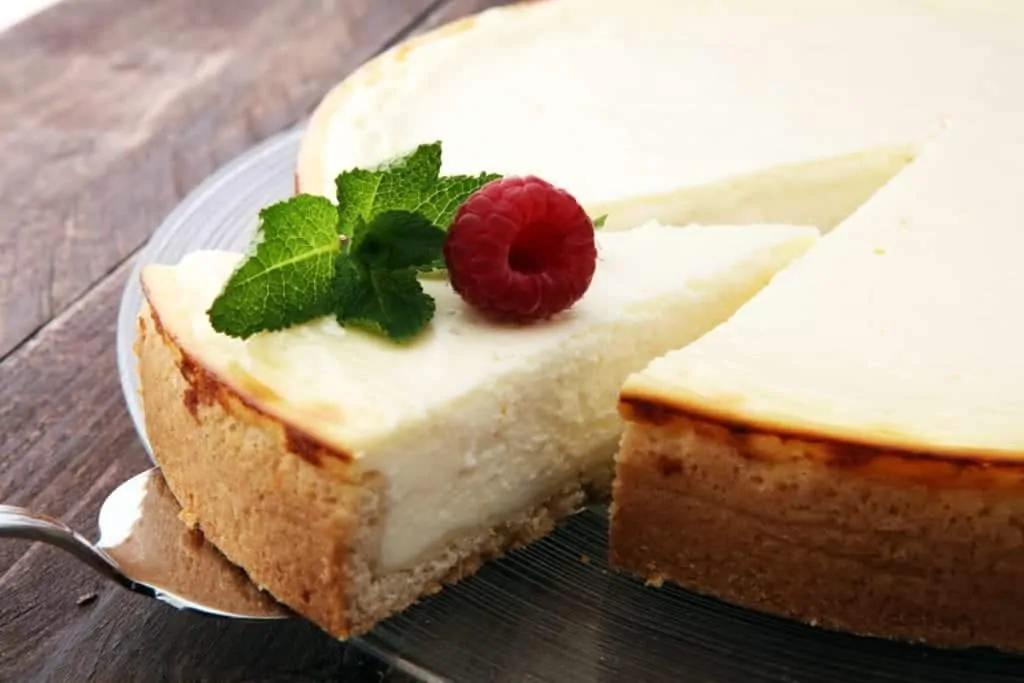 A delicious and perfect cheesecake, we will show you the best homemade recipe with all the little tricks so that it will come out lovely and without and cracks.
Ingredients
180

g

of Maria cookies

100

g

of unsalted butter

50

g

of crushed nuts

500

g

of Finnish or Philadelphia cheese

3

eggs

160

ml

of cream for the base

35% fat

120

g

of white sugar

1

tablespoon

of cornstarch

10

ml

of lemon juice

Zest from half a lemon
Step by step how to prepare
We begin with the crunchy base; to do this we put the cookies in a food processor or we put them in a plastic bag and hit them with a rolling pin.

Next, we add the nuts and we mix them so they integrate well, we also add the butter and continue mixing.

For the time being we put the mixture in the base I the mold that we'll use for the cake and we squish them down with a spatula so they're more compact.

We put the mold in the oven that has been preheated to 180 degrees C with heat above and below for about 15 minutes.

We remove it from the oven and let it cool down to room temperature while we get going with the next part of the recipe.

Now we need to make the batter and the first thing that we need to do is add the lemon juice to the cream to make the mount, we remove it and let it rest for 10 minutes.

Meanwhile, we continue beating the cream cheese for two minutes on low speed at room temperature. You can do this in a blender or by hand.

We add the cream to the mount and beat it for a couple more seconds to mix the in the vanilla and the lemon zest. We integrate them well without beating too harshly.

We add the cornstarch and we mix everything together for one more minute. We add the beaten eggs one by one and integrate them well.

We put this entire mixture into the mold that has the crushed cookies at the bottom. We smack the mold against the counter (gently!) a couple of times so that the few bubbles that have formed will move to the surface and burst at once.

Lastly, we bring the mold to oven that has been preheated to 160 degrees with heat above and below, without the fan, and we cook it for about 50 minutes. Remember that the cook time will vary according to the type of oven you're using.

After it bakes, we turn off the oven but one thing before it's time to take out our mold. We should leave it in the oven for 30 minutes with the door closed and then for 15 minutes with the door open so that it doesn't crack due to the change in temperature.

Now we can take it out and let it cool to room temperature and then put it in the refrigerator for four hours. After this time it will be ready for us to take it out of the mold and enjoy it how it is, although you can also add some flavors as toppings if you'd like.
Video. How to Make
Valores Nutricionales
Serving:
20
g
|
Calories:
321
kcal