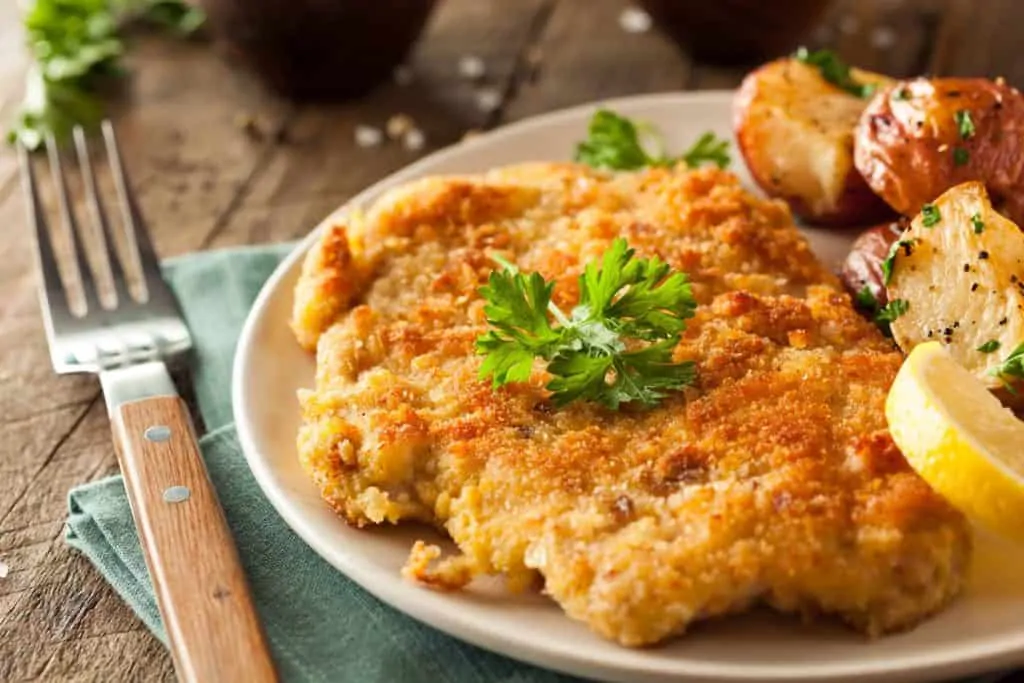 Preparing a delicious and crispy chicken Milanese should be, without a doubt, on your list of easy recipes that will make your day.
The reason is simple: they are very simple to make, and also have a perfect flavor and texture for all palates.
Although this isn't everything; we can cook it for any occasion, even for a special day and pair it with anything we desire and in this way it's a very versatile recipe and combines well with everything.
---
Recibe GRATIS cuando Publiquemos NUEVOS Videos y Recetas. SUSCRIBETE AHORA GRATIS aquí Abajo.
The chicken Milanese recipe doesn't have a well-defined origin story, nevertheless a lot of literature states that its name was first heard in the Italian city of Milan.
How to make crispy Chicken Milanese?
To make perfect Chicken Milanese all you need is to keep in mind the key principle for this preparation and you'll see that it is just as simple as a fillet of breaded chicken passed through eggs.
Simple, right? But the thing that most people forget is that in order to get a perfect result is to keep in mind what type of fillet to use, if it is better to use breadcrumbs or flour, as well as the adequate temperature for when you cook it and other little extra tricks to give it flavor.
Let's begin with the quality and cut of the chicken fillet to make our Milanese; for this, you can use whatever cut as long as you get a thin fillet, although the most recommendable would be to use the breast.
The next thing to think about is the mixture of eggs to create the flavor; in order to enhance the flavor, you can add a dash of beer or Coca-Cola, although it's perfectly fine if you don't.
On the other hand, we have the uncertainty of whether to use breadcrumbs or flour and the good news is that both are acceptable.
Although personally, we lean more toward using breadcrumbs since they make the Milanese crunchier.
But don't feel bad because you can do it with both. What do we mean? Well, the technique to bread the chicken is key and it always has to be done twice so that way it holds well, thus we can first use flour and then breadcrumbs to make it even crunchier.
If you do it just how we will explain to you below in our step-by-step guide you will surely make the best Chicken Milanese you have ever tasted.
Chicken Milanese Variants
The most popular variation o this recipe is the Neapolitan Chicken Milanese which you can prepare just as well to enjoy with a slightly different touch on another occasion.
This version consists of simply adding tomato sauce and mozzarella cheese on top while it is already cooked to later put in the oven for a few minutes until the cheese melts.
Other known variants are Swiss Chicken Milanese, which is accompanied by white sauce, cheese, black pepper and even some Oregano. Nonetheless, this last recipe is generally prepared using beef.
Chicken Milanese Recipe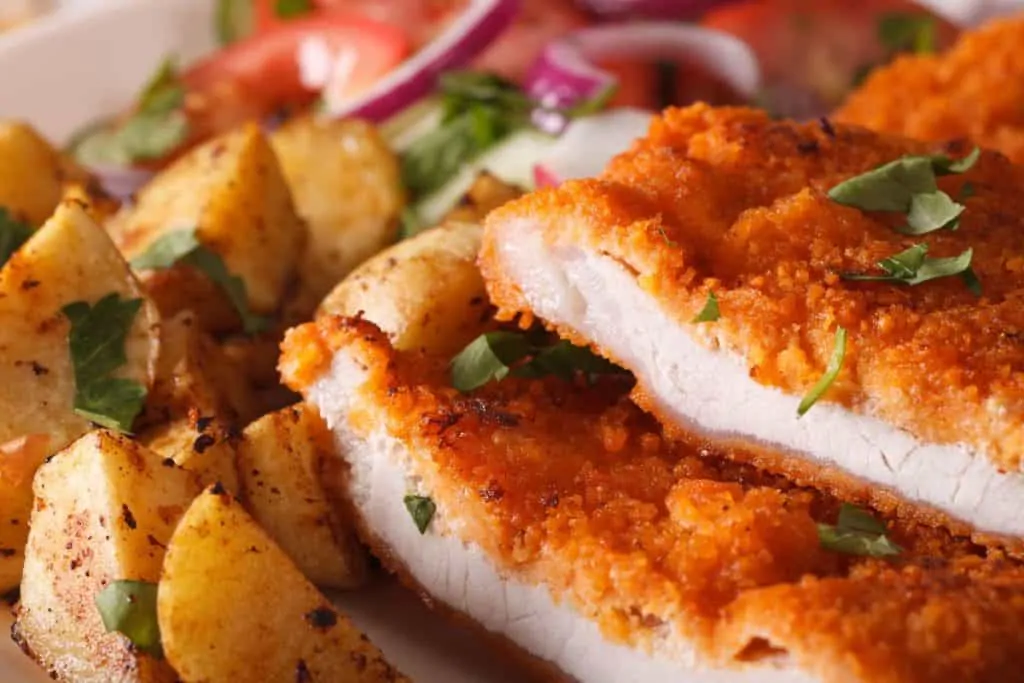 Take advantage and prepare this Chicken Milanese at home; very easy, delicious, and versatile that you can enjoy on any occasion. Don't miss out on the tricks that will ensure it will come out perfectly.
Ingredients
4

chicken fillets

2

eggs

2

cups

of breadcrumbs

1

tablespoon

of parsley

either dry or freshly picked

1

teaspoon

of ground garlic

Salt and pepper as you desire
Step by step how to prepare
Season both sides of the chicken fillets with salt and pepper and set them aside. Also put a pan on the stove with a lot of oil so it can heat up.

In the meantime, beat the eggs in a container and add a tablespoon of beer if you'd like.

In a second container pour in the breadcrumbs, add the parsley and the ground garlic. Mix it until it is well integrated.

The next step is to pass the chicken fillets first through the breadcrumbs, then through the mix of eggs, and then back through the breadcrumbs again. Make sure they are well covered after each step and shake off excess when you pass it through the beaten eggs.

When the oil is heated up to medium heat, add the breaded chicken breasts and fry them for 3 or 4 minutes until they are golden on both sides. If you don't want to use oil you can cook them in the oven.

When they are fried, put them on an absorbent paper to get rid of excess grease and this way they will be even crunchier for longer.

In order to serve them you can accompany them with rice, potato puree, fried or baked potatoes, salads, and you can even enjoy them with bread.
Video. How to Make
Valores Nutricionales
Serving:
100
g
|
Calories:
232
kcal