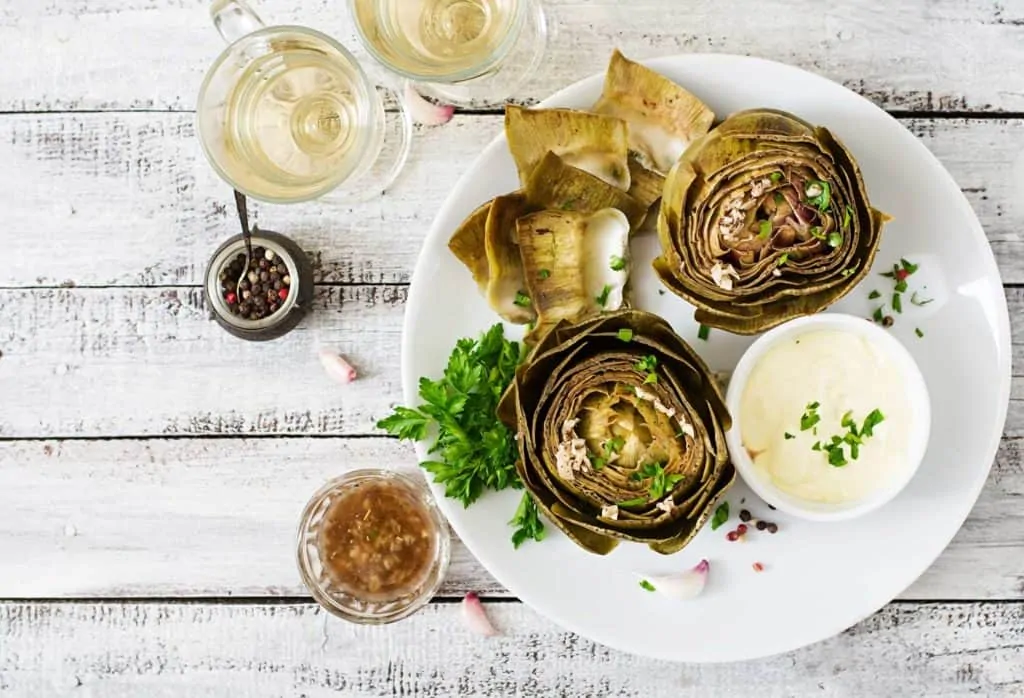 Roasted artichoke are great for enjoying a healthy meal with little effort and obtaining the best possible result.
So this will be an excellent alternative to include more vegetables in your diet; furthermore, you'll be the greatest host if you're preparing it for your guests.
This roasted artichoke is perfect for everyone: vegans, vegetarians or non-vegetarians, making it a dish we always must have at hand.
---
Recibe GRATIS cuando Publiquemos NUEVOS Videos y Recetas. SUSCRIBETE AHORA GRATIS aquí Abajo.
There are many ways of preparing recipes using artichokes, since they can be cooked in different ways.
For instance, we can find stuffed artichoke or artichokes with cheese, giving them an unbeatable melted texture.
But on this occasion we'll show you the basic roasted artichoke recipe, from which you can prepare the version you prefer the most.
Although, we can assure you that this artichoke will be quite tender and juicy so you won't need to change everything.
Nevertheless, in coming updates we'll be explaining to you other ways of preparing artichokes so you can enjoy them in all possible ways and choose your favorite one.
How to make roasted artichoke?
To prepare roasted artichoke, the first thing we have to bear in mind is to have a fresh product, thus the result we'll be perfect.
When buying it, make sure it has a tip at the end, which is the principal indicator that it's fresh. It also has to show you resistance when pushing it; otherwise, if it's soft, it'll mean it's not fresh.
Once you have chosen the best artichoke, the next step is to prepare it at home using the step-by-step instructions we'll give you below.
There are those who like to add lemon or other spices, this is totally optional, but we consider that they change the flavor of the artichoke so we're not using them.
One more detail before we move forward to give you the list of ingredients, we prefer to make it in one piece, because if cut it in half they'll be too dry and what we want is to get its heart juicy and tender.
Roasted artichoke recipe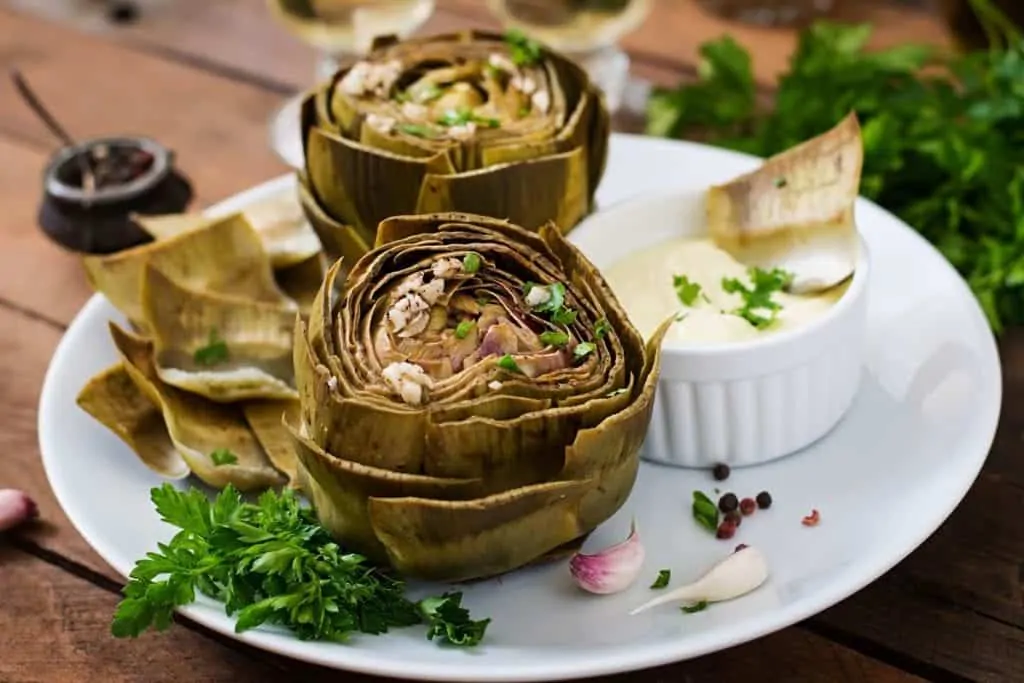 You won't be able to stop preparing these roasted artichokes, perfect for all kinds of guests. They are very easy to make and they'll be super juicy.
Ingredients
8

fresh artichokes

2

tablespoons

of oil

1

teaspoon

of vinegar

A pinch of salt
Step by step how to prepare
Start by turning on the oven and setting it to 250ºC so it can begin heating up while we prepare the artichokes.

To do so, the first thing to do is to cut their stem, and them beat them over a flat surface so the leaves can open up a bit, this will allow a better absorption of the seasoning.

Then, place them on a tray and sprinkle them with the oil, the vinegar and the salt.

Take them to the pre-heated oven lowering the temperature to 220ºC with heat at the top and at the bottom of the oven and bake them for approximately 45 minutes.

After this time, take them out of the oven. In order to enjoy them, remove their external leaves and cut them in half so we can better enjoy the heart, which will be very juicy.
Video. How to Make
Valores Nutricionales
Serving:
100
g
|
Calories:
47
kcal