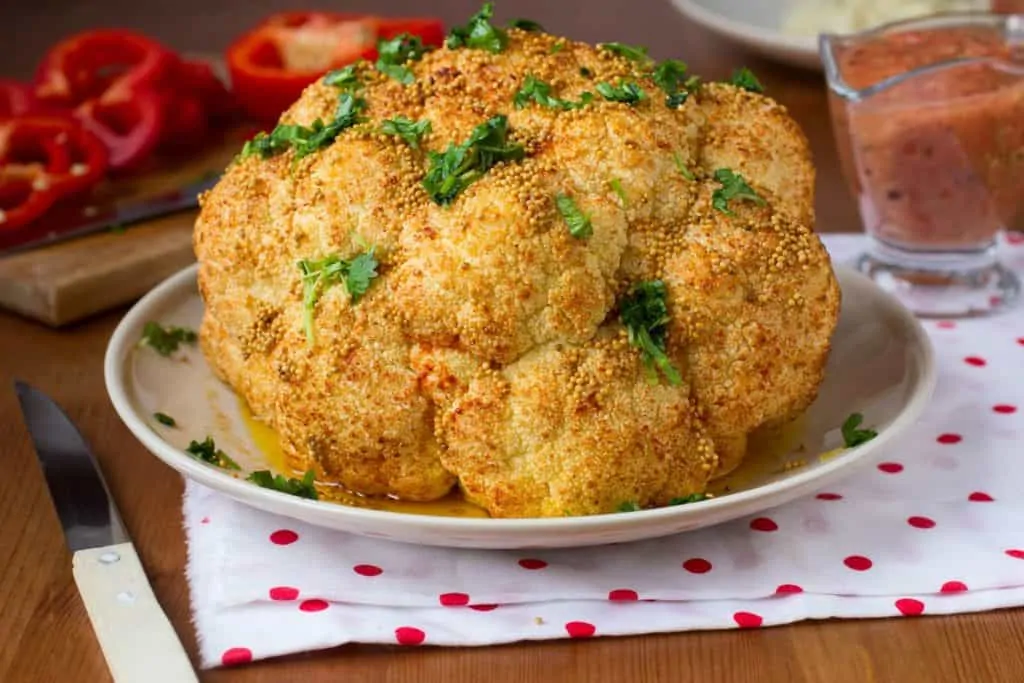 If you prepare this roasted cauliflower recipe we propose you today, you'll certainly love it a lot.
All dishes using cauliflower are already delicious, but this one especially will take you to a higher level.
The best thing of all, besides its flavor, is how easy it will be to prepare this roasted cauliflower.
---
Recibe GRATIS cuando Publiquemos NUEVOS Videos y Recetas. SUSCRIBETE AHORA GRATIS aquí Abajo.
The result? Well, it'll be a healthy dish with a soft texture, juicy, full of flavor and a crunchy upper layer.
It can be served as a side dish or as a main course. And if you make the whole cauliflower it'll be perfect for a special supper due to how well it looks and it tastes.
If you serve it just taken out of the oven, it will be ideal, but you can also prepare it beforehand and bake it for a couple of minutes when it's time to serve it.
How to make roasted cauliflower
Roasted cauliflower is a very versatile recipe since it can be made in many different ways.
For instance, we're used to making it grated but, on some occasions, we can also add ham or white sauce.
Nevertheless, the recipe we're about to explain to you is lighter and easier to prepare.
What we need in this case are just a few ingredients that will help to intensify the flavor of the roasted cauliflower.
Nonetheless, you can modify it according to your preferences adding or removing some ingredients.
Before we move forward to explain he recipe, it's important you know you can make the whole cauliflower or cut it into small pieces. You choose the way you like the most.
Roasted cauliflower recipe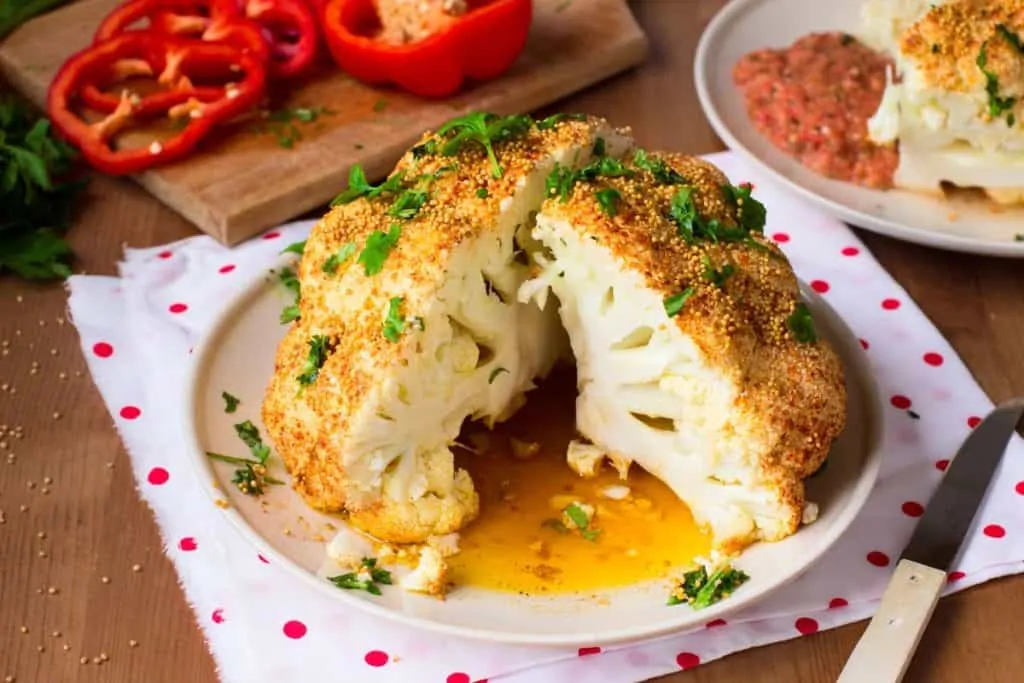 Don't miss this roasted cauliflower recipe: super juicy on the inside and with a crunchy outer layer, with a light but delicious flavor.
Ingredients
2

pounds

of cauliflower

2

tablespoons

of olive or avocado oil

1

teaspoon

of smoked pepper

1

teaspoon

of salt or as much as you desire

A pinch of pepper

1

lemon

1

tablespoon

of fresh cut parsley
Step by step how to prepare
Pre-heat the oven to 190ºC with heat on the top and on the bottom and no fan while you prepare the cauliflower.

Cover a tray with wax paper and place the cauliflower on it. If you're going to make it in portions, cut it first and then place it on the tray.

Sprinkle the oil and add the smoked pepper, the salt and the pepper. Take it to the oven, lower the temperature to 180ºC and bake for 50 minutes if you're cooking it in one piece or for 25-30 minutes if you're cooking it cut into pieces.

When you notice its outermost layer is brown, then it'll be ready to be taken out of the oven. Serve it accompanied by lemon and fresh parsley, which will give it a delicious finish.
Video. How to Make
Valores Nutricionales
Serving:
100
g
|
Calories:
152
kcal