The zucchini soup recipe is one of those tricks that you have to have up your sleeve to save the day.
If you, by chance, are about to have guests over, do not doubt to give them this delicious soup because it will never let you down.
We almost always have zucchini at home, it is a vegetable we like a lot and it will last a long time and with it we can prepare an infinite number of dishes that are just as delicious as they are economical.
---
Recibe GRATIS cuando Publiquemos NUEVOS Videos y Recetas. SUSCRIBETE AHORA GRATIS aquí Abajo.
How to make homemade zucchini soup?
There are so many varieties of zucchini soup that really are worthwhile trying because each one has its own secret.
But today we want to propose a very traditional option for you to make, and it's very easy.
The main trick in our recipe is to soak the ingredients which will get us a soup with a stronger flavor.
And to give it a better consistency we will arm ourselves with ingredients such as potatoes, milk, and optionally, cheese and we assure you that it will come out phenomenal.
Nevertheless, there are those who use some flour and cream in order to get the consistency, we prefer not to use them so that way the soup doesn't have as many calories.
In terms of the cheese, you can use however many types of cheeses they sell at the supermarket, such as Philadelphia cheese, they will work very well in this recipe but remember, it isn't necessary at all to add cheese.
On the other hand, there are chefs that add a little bit of cooked rice or vegetable broth, however, we have found that this changes the taste of the zucchini, thus we do not include them in our recipe.
Zucchini soup Recipe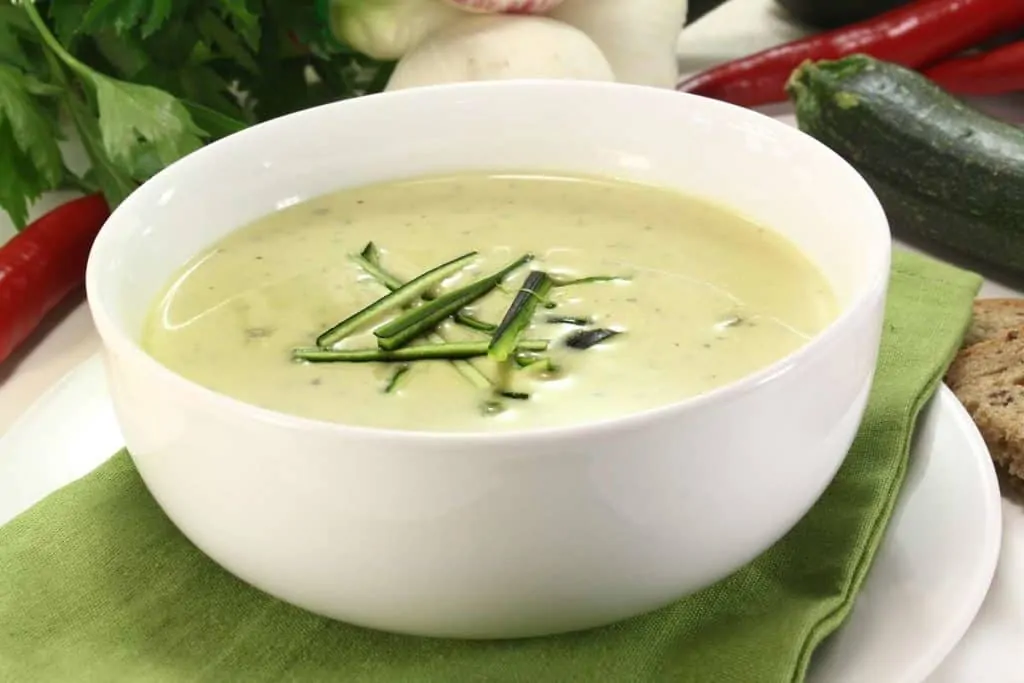 Prepare a delicious zucchini soup at home to enjoy whenever you'd like; it is a super delicious dish that you cannot miss out on.
Ingredients
1

kg

of zucchini or two zucchinis

½

a leek

½

an onion

1

potato

1

garlic clove

100

ml

of coconut milk

250

ml

of water

2

tablespoons

of olive oil

Salt and pepper as you desire

1

tablespoon

of cream cheese or two cheeses from the store

optional
Utensilios
Step by step how to prepare
We chop the leek, the zucchini, the garlic, the already-peeled potato, and the onion.

We put everything in a pot with hot oil on medium heat until the onion caramelizes and the rest of the ingredients turn a little golden.

When we get to this point, we add the water and the coconut milk, then the salt and pepper and we cook for 20 minutes.

We take it off of the stove and, while still hot, we crush the ingredients all together, and at this point if we are going to use cheese, we also add it and crush it until we get no big crumbs or large pieces.

Lastly, serve the zucchini soup hot and you can accompany it with croutons and a string of olive oil or coconut milk.
Video. How to Make
Valores Nutricionales
Serving:
100
g
|
Calories:
340
kcal