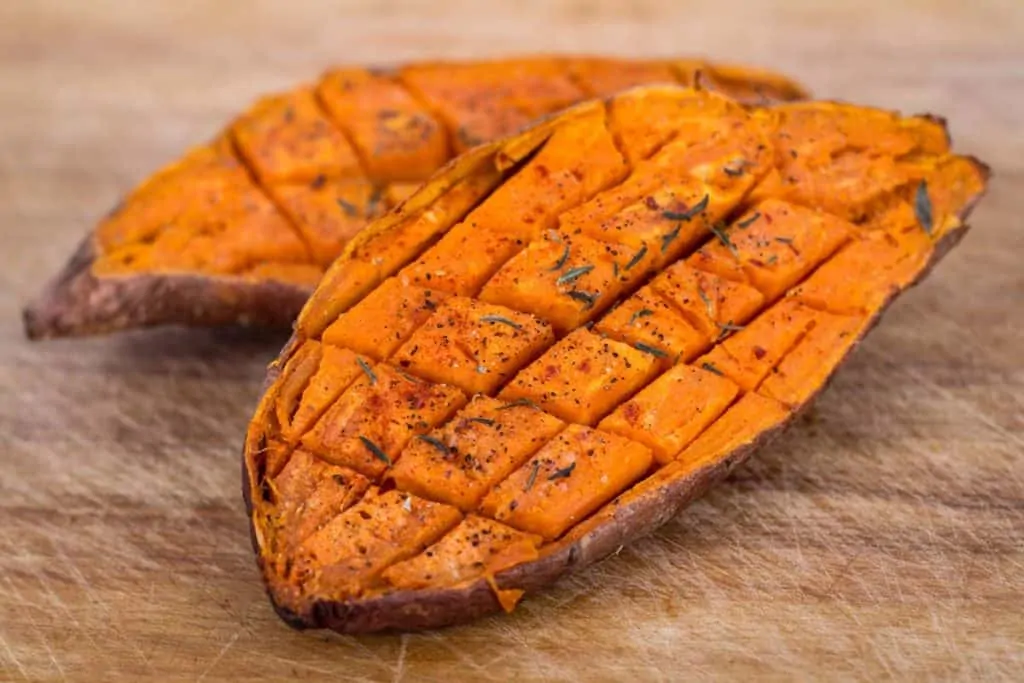 Don't lose the opportunity to learn how to make this delicious recipe of Baked sweet potato, a dish you can include in almost all of your meals.
This recipe is delicious, easy-to-make, and above all, healthy, so it'll be perfect for you and your guests.
The flavor of Baked sweet potato is unique, tending to a light sweetness which characterizes this tuber.
Its texture is very soft and it breaks apart easily when it's ready to be consumed.
How to make Baked sweet potato?
If you've prepared baked potatoes on previous occasions, then this recipe will be familiar to you; but, if for any reason you haven't, don't worry, making Baked sweet potato is easy for everyone.
There are many ways to make it and one of the most known is in baton-like shape, which is perfect to have them as snack.
But today we'll prepare a classic that we're sure will be loved by everyone, and we're talking about baked whole sweet potatoes.
In this way, you'll get a complement for your meals with a soft texture and a slightly sweet favor that you'll love.
The recipe consists of taking the sweet potatoes to the oven and baking them until they're soft. Yes, that's it, just as you read it; quite simple, isn't it? No seasonings or too many extra ingredients.
There are those who like to cover the sweet potatoes with aluminum paper because in this way they keep their heat, thus the cooking time is reduced. If you'd like, you can do it this way, but it's not needed at all.
What's the cooking time for Baked sweet potato?
The cooking time for this recipe of Baked sweet potato will always depend on the size of the potatoes, as well as the amount you use.
In this way, our suggestion is to pick all the sweet potatoes of a similar size, and if they're medium or small, it'll be better.
If they're medium size, the cooking time in the oven will be approximately 50 or 60 minutes.
In order to know if they're ready, you must prick them right in their core and feel if they're soft.
A quite useful trick to speed up this process is to prick them using a fork just before the baking, thus we'll get an even baking even in their core, which is the part that takes the most time.
What to have Baked sweet potato with?
Choosing something to have with this Baked sweet potato recipe is easier than you may think, because its greatest advantage is that matches perfectly with almost every kind of dish.
For example, you can have it with meat and fish of any kind; or olive oil, vinaigrette or balsamic vinegar; as well as some sauce of your preference such as blue cheese, mayonnaise, or others.
Nevertheless, we'll tell you in advance that you can have them just plain, because they're delicious.
Baked sweet potato recipe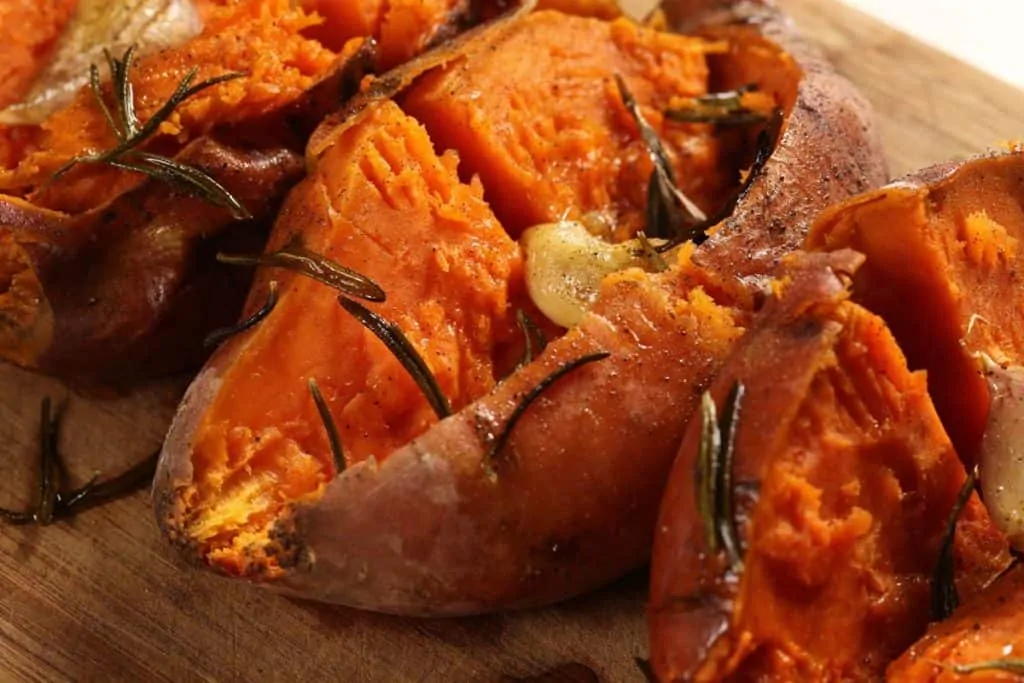 Don't lose the chance to learn how to prepare this baked sweet potato recipe, you'll be surprised to know how easy it can be, in addition to enjoying its soft texture and delicious flavor as many times as you'd like.
Ingredients
6

sweet potatoes of similar size

Water
Step by step how to prepare
Pre-heat the oven to 200 ºC. In the meantime, wash the sweet potatoes well using a brush so you make sure there are no impurities left. Then, dry them well so they're not moist.

Now, using a fork, prick each one of the sweet potatoes (just some pricks).

When you finish, place them on an oven rack (this is better than a tray because the heat will get to them evenly from the top and the bottom).

Take the sweet potatoes to the pre-heated oven and bake for 50 or 60 minutes, until when you prick them again you'll feel that they're soft.

Take them out of the oven and let them rest until they have cooled down a bit so you can peel them and consume them in the way you prefer.
Video. How to Make
Valores Nutricionales
Serving:
100
g
|
Calories:
115
kcal
Nota: Algunos enlaces en este artículo son de afiliación y podrían generar un ingreso para cocina.guru.