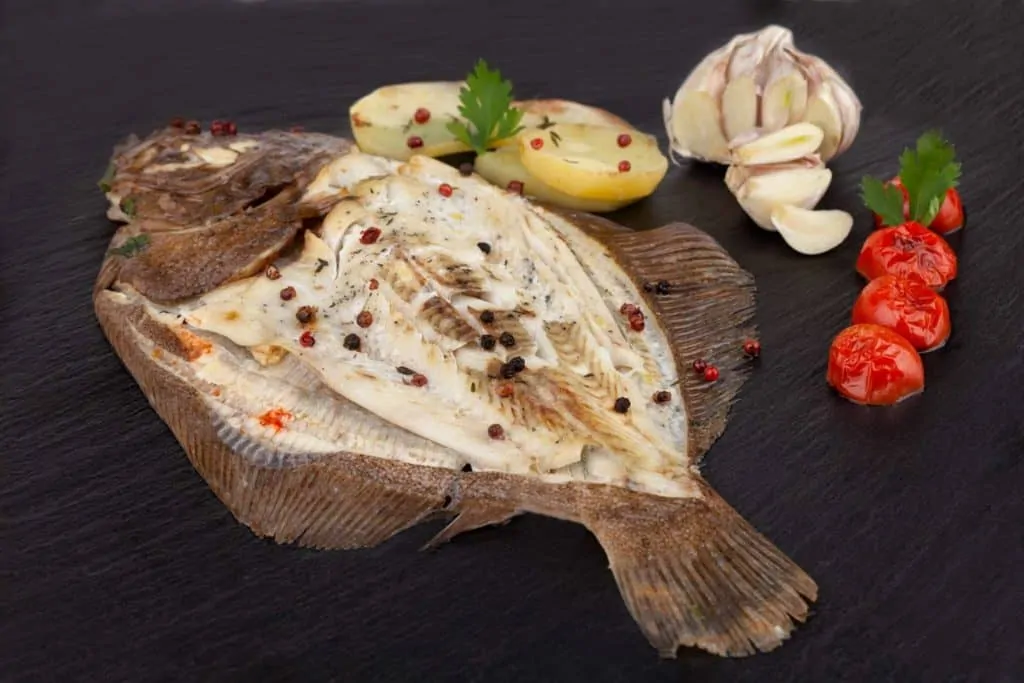 Baked turbot is another recipe tat we are used to making frequently, especially if it is fresh.
Although its texture, which is partly unctuous and jellylike, which isn't for everyone, we are sure that with this recipe they will enjoy every bite.
Like all fish recipes, it is very simple and quick to prepare, more than thankful because the result is always stupendous.
During the hot months is when we have it the most, because turbot is a summery fish, nevertheless, we can find it in markets almost all year and so we can also have it for Christmas.
This wild fish can be pricy in some places, nevertheless, baking it is a delicacy that you cannot miss out on, so if you buy one, don't think twice and prepare this recipe.
How to make baked turbot?
To make baked turbot, you only need to use a few ingredients, especially aromatic herbs that will bring its flavor to a new level.
The baking time depends exclusively on the size o the fish, for example, for a 1kg one we need 30 minutes until it is ready.
If you're using a larger one, it will take more time and on the other hand if it is smaller it will be less time.
Generally, we bake the turbot whole, so we can take advantage of it more, but you can do it however you'd like.
If we bake it with potatoes, the result will be exquisite, for this reason the recipe we are proposing today includes potatoes.
They also serve as a base for the turbot so it doesn't stick to the oven tray, but if you decide not to use them, there's no problem and you can perfectly do without them.
A perfect match for the turbot is the onion, because both flavors are delicious, so you can also use it.
Baked Turbot Recipe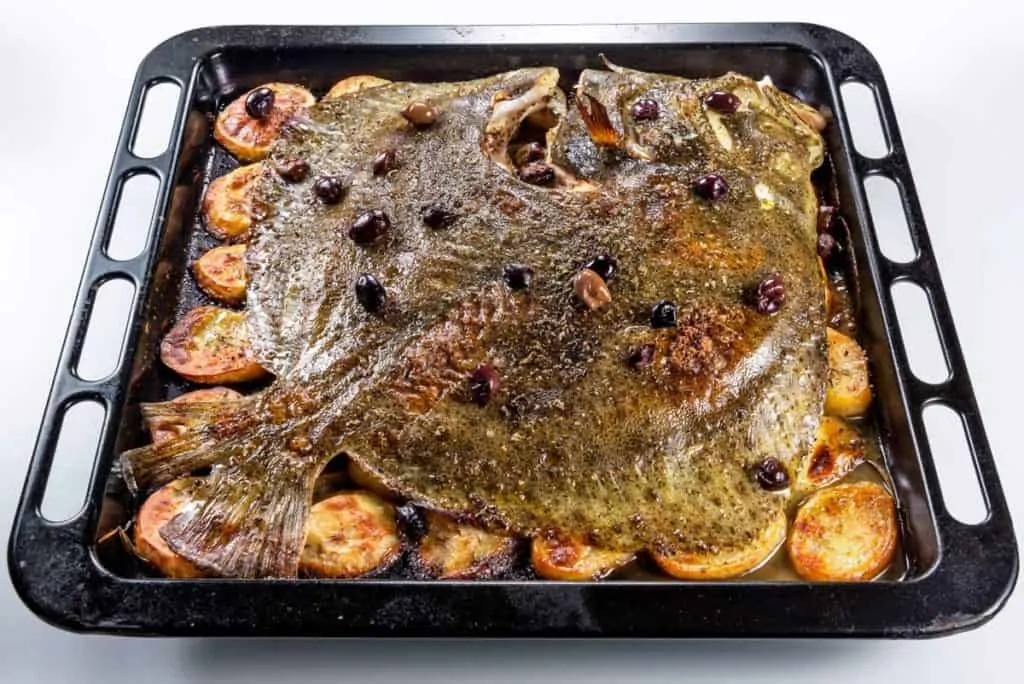 Prepare this baked turbot recipe and you will be enchanted by the result, super easy to make, exquisite, and fast.
Ingredients
1

kg

turbot

5

garlic cloves

3

or 4 potatoes

1

onion

1

tablespoon

of fine herbs

or fresh parsley

100

ml

of white wine

50

ml

of extra virgin olive oil

and a little more for the potatoes

Salt and better as you like
Step by step how to prepare
First, we preheat the oven to 170C with heat above and below.

Later, we wash and cut the potatoes into fine slices, we remove the excess water with towel paper and we put them in an oven tray.

The next step is to add a splash of olive oil, try to add it evenly so that all of the potatoes bake with the same quantity.

We take the potatoes to the preheated oven and we bake them for 30 to 40 minutes at 170C, but making sure they don't get golden yet.

Meanwhile, we make a dressing with the crushed garlic, the white wine, the olive oil, the parsley or the fine herbs, the salt and the better. Mix them well and crush.

Wash the turbot a lot of cold water, drain it and let it dry so it doesn't have an excess of water. Also, add some longitudinal cuts on both sides.

Add the dressing to its entirety and we add a little to the potatoes too which should be ready.

We put the turbot on top of the potatoes in the tray and we put it back in the oven at 180C for 30 minutes until it turns golden on its edges and you don't see liquid on the insides of the cuts that we made earlier.

After this time, we turn off the oven, take out the tray, and we serve accompanied with baked potatoes, vegetables, or some type of sauce if you would prefer.
Video. How to Make
Valores Nutricionales
Serving:
100
g
|
Calories:
100
kcal
Nota: Algunos enlaces en este artículo son de afiliación y podrían generar un ingreso para cocina.guru.