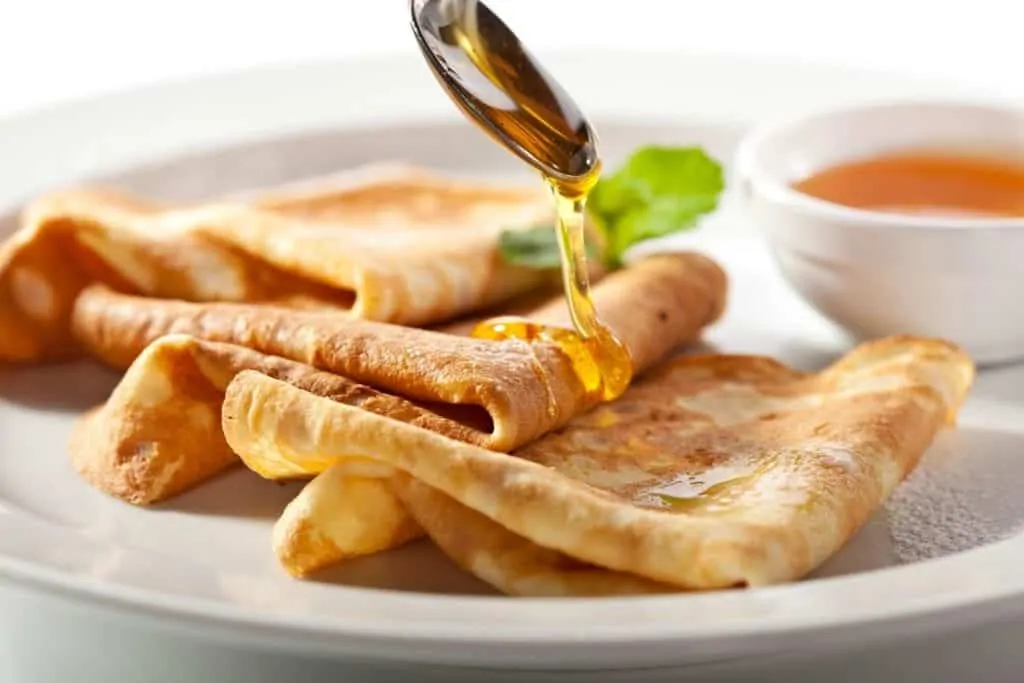 Today we are going to prepare some delicious and easy-to-make crepes that you will love and be able to prepare always whenever you'd like.
For many people, this simple flour tortilla is a perfect breakfast, although it can also be enjoyed as a snack.
Even though it is a French recipe, it is prepared in every corner of the world and its popularity has traversed all borders.
It isn´t, however, always called a crepe; sometimes the word is spelled crep, especially in Spanish-speaking countries.
How to make salty crepes?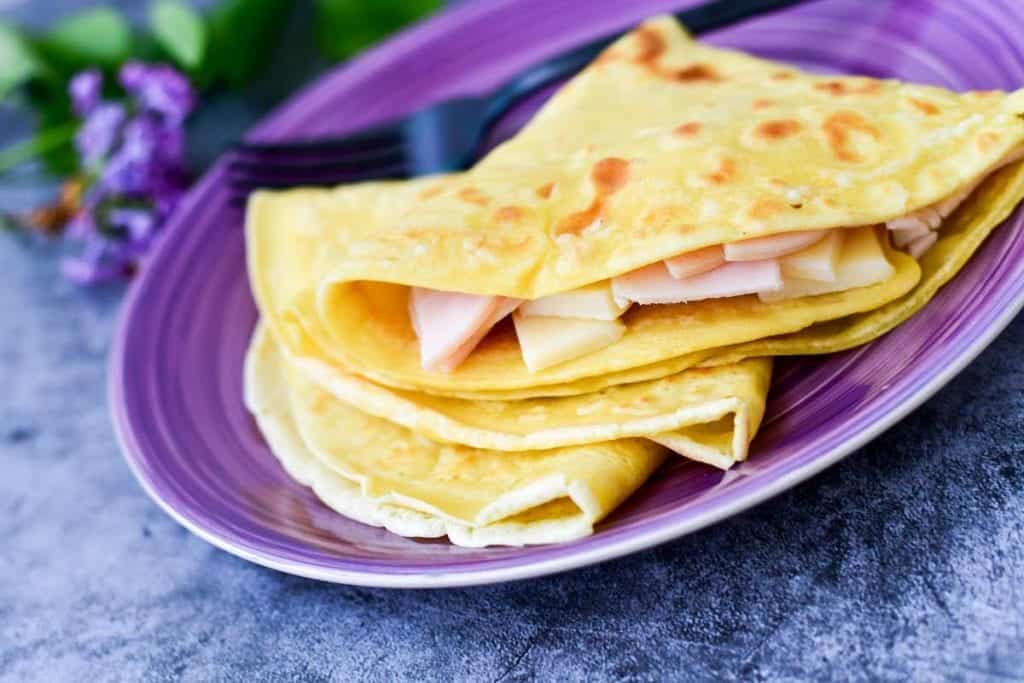 As we have mentioned, crepes are made with flour, so this is the principle ingredient, although it's just the dough for salty crepes.
Likewise, other ingredients are added that are easy to get, such as milk, eggs, and a pinch of salt.
Its elaboration is very simple, we just need to mix all of the ingredients and put them in a disc-shape in a pan with a flat surface.
Some people use a special machine called a crepe-maker to prepare them but not all of us have this at home so a frying pan is a perfect alternative.
These crepes end up very thin with a soft texture and a light taste that we are sure you will love.
How to make sweet crepes?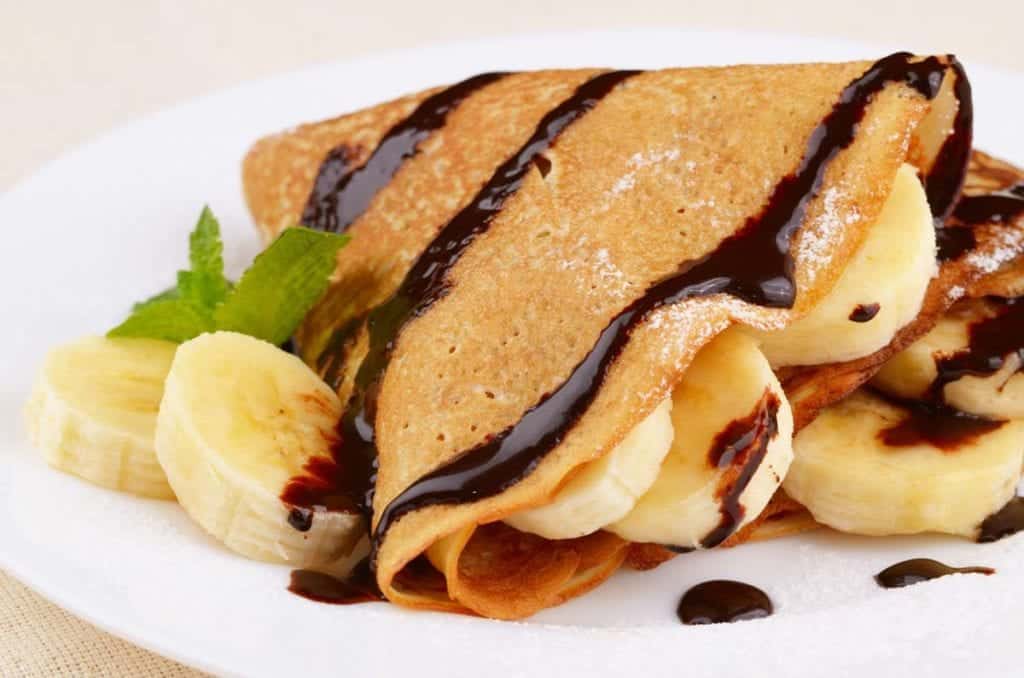 To make sweet crepes we can pretty much use the same recipe as for the salted crepes, just adding a bit of sugar to sweeten their taste.
Depending on the amount of sugar that you use you can make them for fillings that are just as sweet.
For this reason, we would like to teach you how to make dough for crepes that you can always use.
The version of homemade crepes that we are showing you today works for sweet and salty fillings because it is a dough with a perfectly light taste for both options.
What is the best type of flour for crepes?
Although you can often find premade crepe flour that already has the majority of the ingredients but our recommendation is that you make the entire recipe at home.
Although that option would simplify the recipe, we assure you that the flavor would not be the same at all.
Because of this, while you are making them you will surely wonder which the best flour to make crepes is and now you're about to get some good news: you can use all-purpose flour which is the most common type of flour.
This way it'll be much easier and cheaper for you to get the flour at any supermarket, although you can also use wheat flour which is often used to make crepes.
Another alternative is to use oat flour; if you want healthier crepes then this is an excellent option.
Likewise, without a doubt you can make the crepe dough with cornmeal which, although it can be a little more expensive at times, the texture and the flavor will be just as delicious.
What to have the crepes with?
To fill the crepes, there are infinite options; on one hand you have the salted fillings such as cheese, beef, ham, vegetables, and, on the other hand you have the sweet fillings.
Among the sweet fillings, the most popular ones are whipped cream, jam, fruits such as strawberries, plantains, as well as nutella, chocolate, dulce de leche, or caramel candy, among other delicacies.
You can choose the version you like the most and add honey or syrup if you prefer.
Crepe Recipe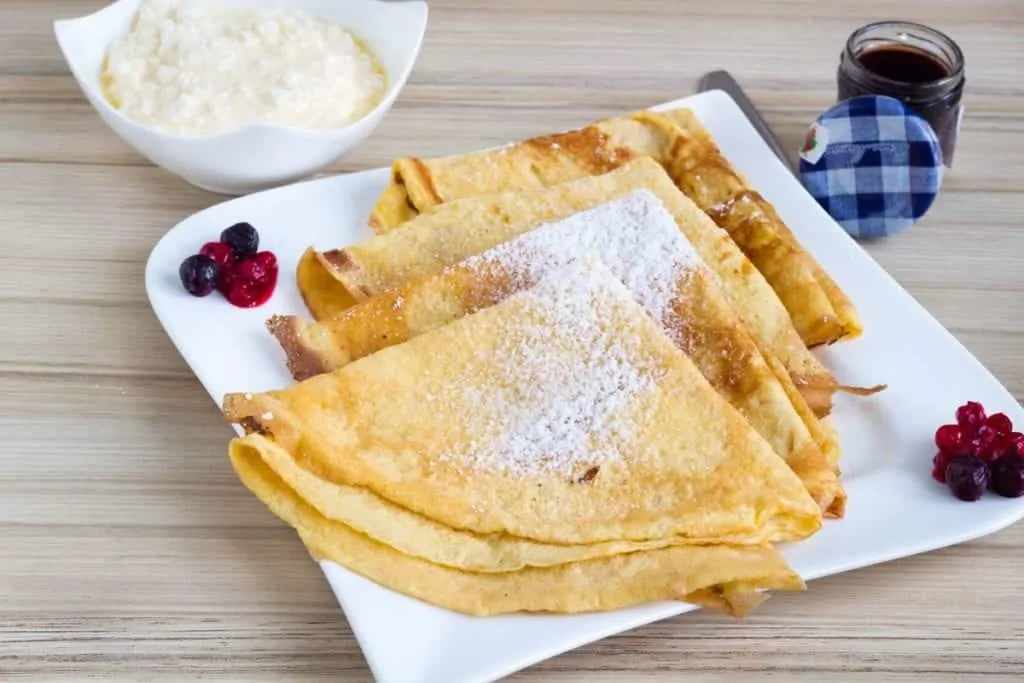 Get hyped and make this delicious and easy homemade crepe recipe, sweet and salty, you can enjoy them with the filling of your choice at any time of the day.
Ingredients
One cup of all-purpose flour

2

tablespoons

of white sugar

2

eggs

1 1/4

of a cup of milk

1/2

a teaspoon of vanilla extract

2

tablespoons

of melted butter

A pinch of salt
Step by step how to prepare
We begin by mixing all of the ingredients and to do this we use a hand-mixer or a blender. Get the milk, the flour, the sugar, the vanilla extract, the salt and one egg. Beat until it is well-mixed for a few seconds.

Once they're well-mixed we add the second egg and we continue beating it a little faster for a few more seconds.

We pour in the butter and we beat for approximately one minute until there aren't any lumps and it has a very liquid consistency.

After this, we put the dough for the crepes into a container and refrigerate it for 20 minutes so it better achieves the consistency we need for cooking.

After this time, we put a pan with a flat surface on the stove and we get a teaspoon of butter to grease the surface of the pan.

Once the butter has melted, we add a ladleful of the crepe dough in a circular motion so that it better-distributes. We cook it on low heat for one minute or a minute and a half until the borders become a little golden.

With the help of two spatulas we flip the crepe and cook it for 15 to 20 more seconds. We remove the first crepe and continue doing the same process for the rest until we've used up all of our dough.

To serve them you can put the sweet or salty filling that you choose; you can opt for any of the options that we mentioned you beforehand or do it according to how we showed you in the picture.
Video. How to Make
Optional:
If you prefer, you can make the crepe dough completely salty; for this you only need to remove the sugar, without worrying about the texture since it will still be soft and light.
Valores Nutricionales
Serving:
20
g
|
Calories:
224
kcal
Nota: Algunos enlaces en este artículo son de afiliación y podrían generar un ingreso para cocina.guru.