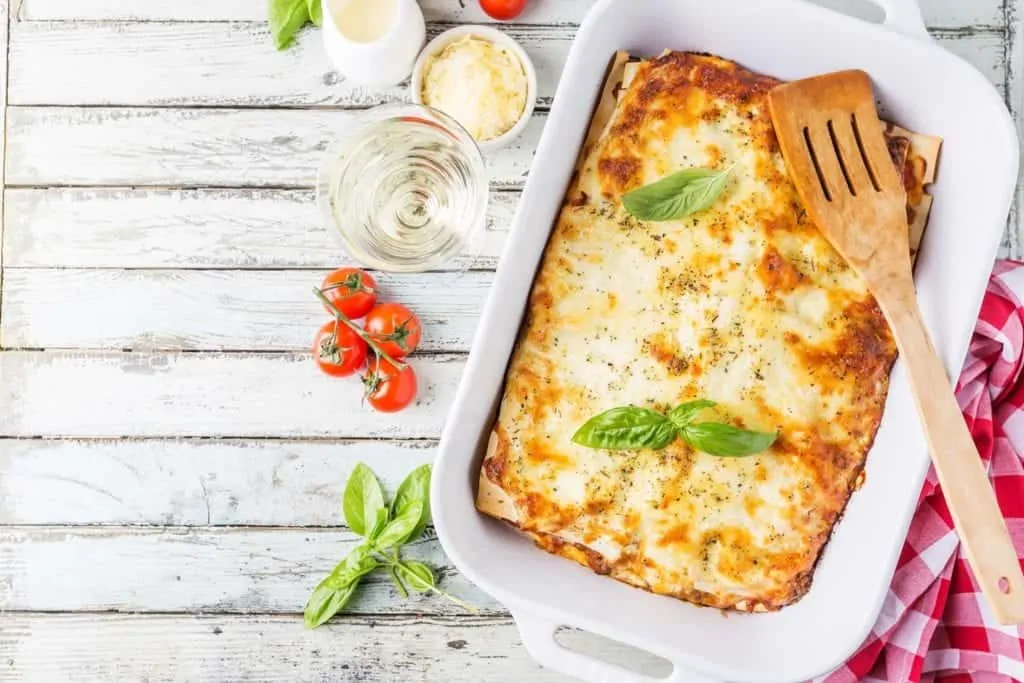 This vegetable lasagna is perfect to be included on our menu as an alternative to eat healthier food.
You don't need to be a chef to prepare it since it'll be very easy, don't have any doubts about it.
It's also perfect to make children keener on eating vegetables in such an original way they won't resist.
---
Recibe GRATIS cuando Publiquemos NUEVOS Videos y Recetas. SUSCRIBETE AHORA GRATIS aquí Abajo.
How to make homemade vegetable lasagna?
If you have prepared lasagna on previous occasions, you have surely used the pre-elaborated sheets that are sold in the supermarkets.
But this time we propose you to prepare vegetable lasagna from square one, including the sheets, in the easiest possible way.
We can assure you that you'll love this homemade pasta and when combining it with the rest of the ingredients you'll be surprised by the delicious flavor it'll have.
In regards to the stuffing for the vegetable lasagna you just need to use your imagination and to use the ingredients of your choice according to your preferences.
We, for example, will use broccoli, eggplant, carrots and zucchini but you can change them as you please.
This is the reason why we love this recipe: its versatility, and therefore we'll be able to have it differently every time we prepare it.
You can also add spinach, mushrooms or any other kind of vegetable you'd like since all of them combine perfectly with this recipe.
We'll also add the classic bechamel sauce to this vegetable lasagna which is always used and it helps the sheets to be better compact giving it also a perfect appearance and a creamy consistency.
And for the finish you can add on top of it some grated cheese that when it melts will make this lasagna truly irresistible.
Vegetable lasagna recipe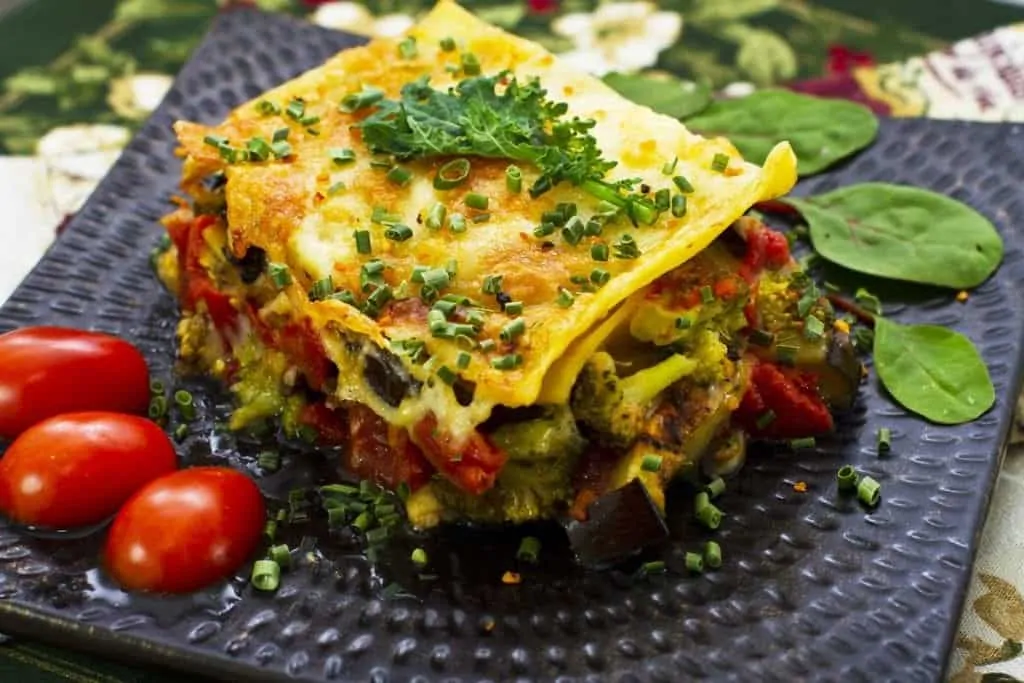 You won't be able to stop preparing this vegetable lasagna, a homemade recipe that will be loved by everyone, including toddlers.
Ingredients
For the pasta
400

g

of flour

4

eggs

2

teaspoons

of light flavor oil

A pinch of salt
For the bechamel sauce
4

tablespoons

of butter

3

tablespoons

of flour

500

mL

of whole milk

A pinch of nutmeg

A pinch of salt
For the stuffing
2

carrots

1

onion

1

eggplant

1

zucchini

200

g

of broccoli

Mozzarella cheese or another you'd like

Salt as desired

6

tablespoons

of salt
Step by step how to prepare
Start by making the lasagna sheets putting the flour with the salt in a wide container or on a clean surface.

Add the eggs and the oil. Mix everything well until integrating all the ingredients and from this moment knead for 10 minutes.

Once the dough is ready, wrap it in plastic wrap and let it rest at room temperature for 30 minutes.

Once that time has passed, divide the dough in small portions to make each one of the sheets. You can give them the size you'd like.

Chose one portion first, stretch it using a rolling pin until it's quite thin and cut the edges so they're straight.

Once you have the sheets ready, pass them through hot water for 2 minutes and keep them in a container with cold water so they don't stick to each other or keep on cooking.

Now, prepare the bechamel sauce you're going to use for the vegetable lasagna. In a pot on medium heat add the butter, once it's melted add the flour and mix well so they integrate.

At this point you're going to add the milk bit by bit while still stirring to avoid forming lumps. Do so until there's no milk left.

Stir constantly. It'll be better if you use a whisk. When you see no lumps you can add the salt and the nutmeg. Let it boil and thicken. Remove it from the stove and set aside to use it later.

Now it's time to prepare the stuffing. To do so cut all the vegetables into small pieces and sauté them in a frying pan with hot oil and a pinch of salt until they start browning. Use 1 or 2 tablespoons of oil per each vegetable depending on the amount.

After this step, pre-heat the oven to 180ºC while setting up the vegetable lasagna.

In order to set up the vegetable lasagna choose a tray and put some bechamel sauce on the bottom of it, then place the lasagna sheets so they fit, depending on the size of the tray.

Next, spread a layer of bechamel and tomato sauce and on top of it place some of the onions and the vegetable you chose. It could be carrot, for instance.

Then, place another layer of lasagna sheet, bechamel and tomato sauce to add another vegetable with another portion of onion.

Keep doing so until you have run out of vegetables. For the last layer just put a lasagna sheet, bechamel sauce and abundant grated cheese.

Take it the to the pre-heated oven, which must have heat on the top and on the bottom, for 15 minutes until the cheese has melted, turning lightly golden.

Take it out of the oven and let it cool for some minutes before cutting it in portions and serving it.
Video. How to Make
Valores Nutricionales
Serving:
100
g
|
Calories:
316
kcal