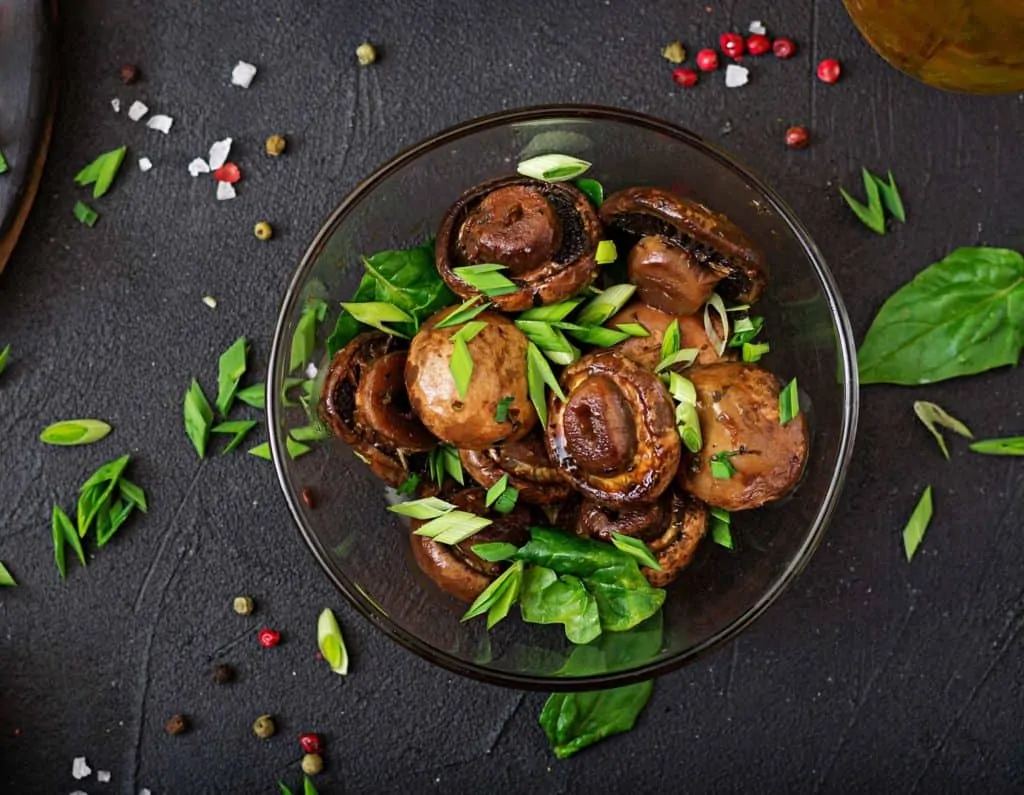 Today we're going to prepare roasted mushrooms, an excellent dish we'll be enjoying in less than 30 minutes.
You can't let this recipe go because we assure you it'll be loved by all your guests.
Mushrooms are light food, which makes them a perfect alternative to combine with our meals.
---
Recibe GRATIS cuando Publiquemos NUEVOS Videos y Recetas. SUSCRIBETE AHORA GRATIS aquí Abajo.
Furthermore, they're a rich source of essential nutrients to improve the functioning of our body.
For this reason, and because they're famous, is why we love to prepare recipes using mushrooms.
How to make roasted mushrooms?
Making bakes mushrooms is quite simple and fast, although the cooking time will always depend on the amount and kind of ingredients you're using.
We, in order to make a recipe with no further complications, prefer to add a few ingredients that will be enough to give an exquisite flavor to the mushrooms.
However, the success of this recipe also includes the way you prepare the mushrooms before baking them.
Cleaning them well is needed. The right way of doing so is to cut part of the stem and wash them with our hands inside a container with water.
Then, throw away that water and wash them again, this time directly under the faucet, while rubbing a fine brush removing all their impurities, including the sand they might have.
Lastly, before moving forward to marinade them, rub lemon juice on them, this way we'll make sure they won't darken.
If you buy fresh mushrooms, we suggest you to save them in the fridge so they last for a longer time, up to 10 days, otherwise, you'll have to consume them within 2 or 3 days.
Mushroom cook time
The cooking time of mushrooms is important because 50% of success of the recipe will depend on it.
In this case, since we're going to cook them in an oven, we must be sure when they reach the adequate point so it doesn't change its texture, flavor and aspect.
What we want is to get tender and brown roasted mushrooms, that's why we're going to bake them in one piece for 10 or 15 minutes depending on their size.
Their cooking time will also depend on if you want to make them in one piece or cut in slices.
Roasted mushrooms recipe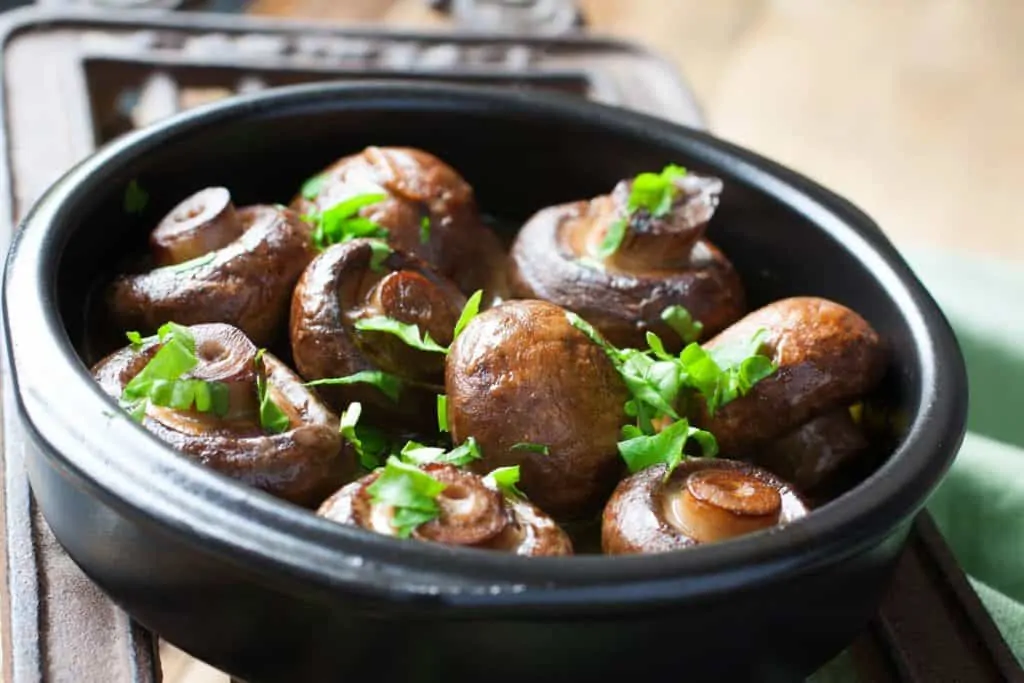 Prepare this delicious and easy roasted mushrooms recipe, an easy and fast-to-make elaboration that will always get you out of trouble.
Ingredients
400

g

of mushrooms

1

bunch of fresh parsley

3

garlic cloves

1

lemon

100

mL

of extra virgin olive oil

Salt and pepper as desired
Step by step how to prepare
First, pre-heat the oven to 200°C with heat on the top and no fan on the bottom.

In the meantime, crush the garlic with a pinch of salt. Then, add the olive oil, the finely cut parsley and the pepper.

Mix everything well so all the ingredients integrate well.

On the other hand, wash the mushrooms as we previously explained, first inside a container with water and later under the faucet rubbing them with a fine brush.

Drain them well, drying the excess of water using cooking paper and place them on a tray.

Pour the seasoning over all the mushrooms so that they are well covered so the flavor is even.

Take them to the pre-heated oven and lower the temperature to 180°C and bake for 15 minutes, until, when pricking them with a fork, you feel that they are tender and they have brown edges.
Video. How to Make
Valores Nutricionales
Serving:
100
g
|
Calories:
22
kcal