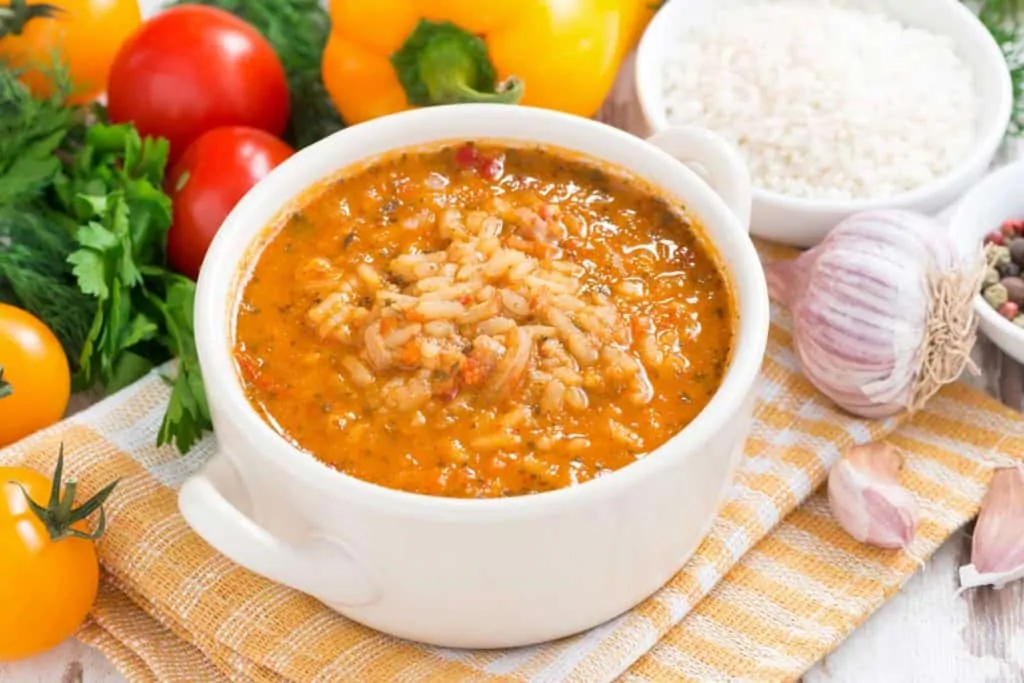 If you have never tried soupy rice, this is the moment to make it, with the easy recipe we will explain to you here.
Its texture is so soft and creamy that you won't be able to resist it, and furthermore it's perfect for children and adults of all ages.
You can enjoy it as a dish in and of itself since the flavor is more than enough, but if you want to add an accompaniment, we suggest that it is something crunchy.
---
Recibe GRATIS cuando Publiquemos NUEVOS Videos y Recetas. SUSCRIBETE AHORA GRATIS aquí Abajo.
Recipes with rice never go out of style, and they are known all over the world because we can take advantage of many different forms, this soupy rice is just one of them.
How to make homemade Soupy Rice?
Although making soupy rice is easy, we need to keep in mind some little tricks so that way it turns out perfectly.
The first and most important secret is to never use water, and in its stead add broth, the type of which will depend on the flavor that you want to give the rice.
In this sense, we recommend that you make a homemade broth because it will penetrate more with the flavor of its ingredients, giving it better quality and exquisiteness to the recipe, which will be different from industrial ones.
Another key trick is to use sauté it when you cook the soupy rice, which will add more potential to its flavor, and so we should use correct ingredients.
Aside from that, is the proportion of rice and broth to use, which doesn't come from any recipe, the adequate amount is to use three times as much liquid for every measurement of rice, in this way we will be guaranteed that it will come out soupy.
The type of rice is also important for this recipe, it is recommended to use a rounded grained rice or Bomba rice, since it is a type of rice that can withstand prolonged cooking maintaining 100% of its structure and it absorbs more liquid.
While the soupy rice is cooking it is good to stir it frequently so that way the starch comes out of it, which will guarantee that it will have the creamy texture we are looking for.
Knowing these tricks for soupy rice, we can now move on to the ingredient list and the step-by-step instructions to prepare it.
Soupy Rice Recipe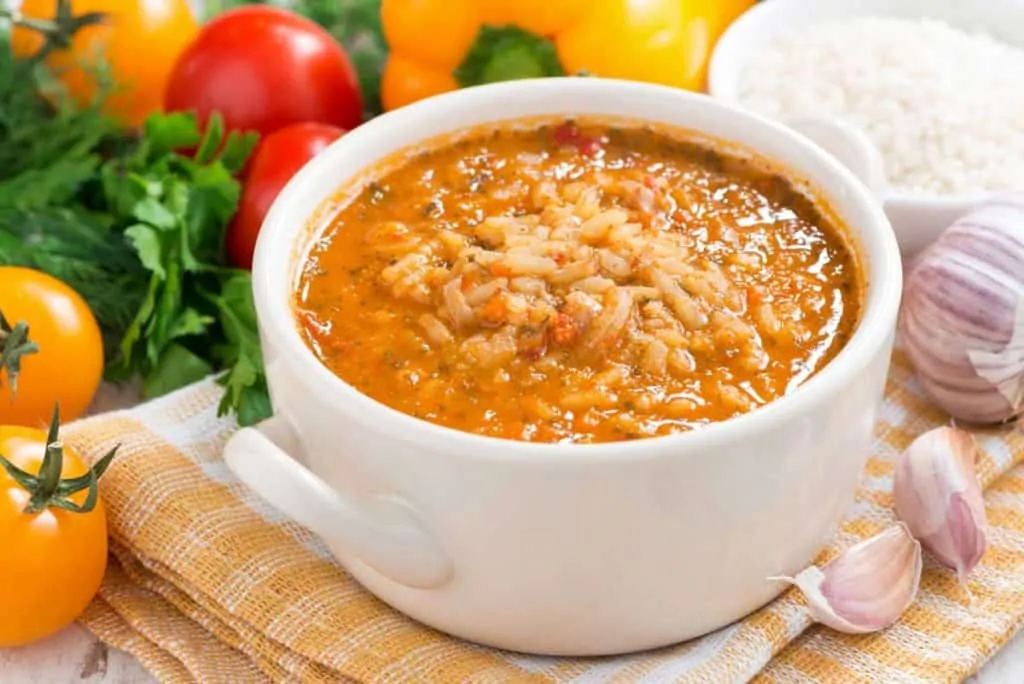 Prepare this delicious soupy rice to enjoy at home, perfect for kids and adults of all ages, with a creamy texture and full of flavor.
Ingredients
500

g

of round grain rice

Some strands of saffron

2

garlic cloves

2

teaspoons

of choricero

red pepper

½

an onion

½

a green pepper

½

a red pepper

2 to

matoes

250g

120

ml

of white wine

Extra Virgin Olive Oil

Salt as desired
For the broth
½

a chicken carcass

1

carrot

1

onion

1 to

mato

½

a leek

2

teaspoons

of choricero

red pepper

1500

ml

of water

1

tablespoon

of Extra Virgin Olive Oil
Utensilios
Step by step how to prepare
We begin by preparing all of the ingredients, cutting them into small pieces to prepare the broth first.

For the broth, we put a pot on medium heat and we add oil and when it is hot, we put in the onion, the carrot, the leek, and the tomato.

After 3 or 4 minutes, we add the chopped tomato and the choricero pepper, we mix well and we add water, the chicken carcass, we cover it and we let it cook for 20 minutes. If we are using a pressure cooker, you only need to cook it for 10 minutes.

With the broth ready, now we can prepare the rice, and to do this we put a wide nonstick pot or a pan on the stove.

Now we sauté the peppers and the onion until the latter is transparent.

We add the tomato and we continue sautéing on high heat, we mash the garlic along with the saffron and we add the white wine, mixing well and adding it to the sauté.

We cook for one minute; we turn off the stove and we mix everything well so that way the texture of the rice will feel better.

We add the rice and we sauté it for one or two minutes before adding half of broth to it, hot and strained.

We stir it well so that way the rice can absorb the liquid well and release its starch; when it begins to boil, we lower the temperature and we cook it on low heat for 25 to 30 minutes, adding the other half to of the broth halfway through this time.

When we add the second half of the broth, we can add some salt as we desire, we cover it and we let it cook for the rest of the time.

Lastly, we uncover it, we add the dash of oil without moving to bind the rice and so that way the oil isn't cut or overcooked.

We turn off the stove and we cover it while it rests for 5 minutes and we serve it hot.
Video. How to Make
Valores Nutricionales
Serving:
100
g
|
Calories:
263
kcal